If you follow this blog often, you may have noticed we haven't been blogging as much as normal and that's pretty rare.  We really have been all over the place and this is one of the first chances we have gotten to sit down, breathe, and blog.  Apologies for the absence, but hopefully we are around now for a little while and will have some time to keep up with it.  We'll try and update you on our latest adventures here.  It's been a little crazy as you can probably imagine just moving back to the U.S. from South America.
I believe that last time we left off, we were awaiting Hurricane Sandy while in Maine.  We made it through with really no damage, the lights only flickered and we had some heavy rain and winds for an evening.  The next day we actually went to the beach and hung out a bit.  Here's some pics from that.
We then traveled to Massachusetts and stayed with a friend of ours from seminary-Whitney Hall and her parents.  It was great to get to know them all better and to see some of Massachusetts.  We visited the church that Whitney is pastoring and did a presentation about our ministry in Ecuador.  Her church, Emmanuel Covenant is in Nashua, NH.  It was wonderful to be able to worship with fellow Covenanters on the East Coast as this area is new to us.
We then traveled to Connecticut and stayed with Joel's aunt and uncle-Chuck and Shirley.  We were pleasantly surprised when we got there to see ALL of Chuck and Shirley's children, spouses and grandchildren, the majority, Kim had never seen before except in pictures and Christmas cards.  We got our first welcome home card and were excited to answer many questions from the kids and adults too!  This was a very encouraging time for us and so nice to see and meet family and of course share in a great Mennonite meal and play DUTCH BLITZ!
We then ventured to Pennsylvania to visit friends of Kim's from college, Stacy and Franco. It was nice to re-connect a bit and to meet their kids. This was a great time of encouragement as well and we were blessed by the time.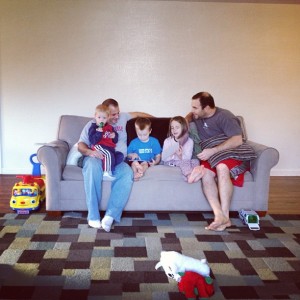 Joel, Simeon, Micah, Anna and Franco
After this, we went and visited long-time friends Scott and Sara Hallam in Ohio.  It was great to re-connect after almost 2 years, see how their kids have grown and meet their newest edition Miles.  This was very relaxing and uplifting for us.  During this time also we got to spend time with different friends and family in the Cleveland area including college friend-Brooke Osborne and her fam and Joel's cousin Starla, her hubby Yan and son Kieran.  Here's a picture of the Osborne's, minus Cameron.
After this we headed to see friends in Coshocton, Ohio.  It was great to see them and a little surreal since the last time we saw them was in Ecuador!  It was nice to meet their kids and just be able to fellowship and of course, EAT!
We are blessed!  Blessed by loving friends and family and people we don't even know that offer to let us stay with them and eat their food and take their time.  We appreciate this people and are so thankful for you all and the way you have blessed us over the last 3 weeks!  THANK YOU!
You may wonder what we are up to now?  Well…
We are happy to say that Kim got a job in the Goshen area, actually at Goshen Hospital here in Indiana.  She will be working as a hospitalist, admitting, rounding and discharging patient's from the hospital here.  We were also offered a place to stay in Middlebury which is about 15 minutes from the hospital and 7 minutes from Joel's parents.  It's a 2 bedroom farmhouse and we are very thankful for it.
We are currently waiting for all of Kim's credentialing before she can start her job.  It may be as long as a month and a half!  YIKES!  We will be here in Goshen, visiting with family and friends in the area.
Soon, we will start the home assignment process of support raising.  If you would like us to visit your church, mission committee or other engagements, we would love to do that.  You can just contact us and we would love to come and visit!
God is good and faithful and we are so thankful for all He is doing!