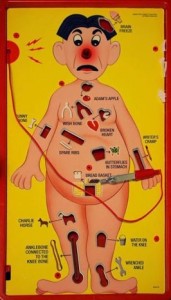 Joel will be having surgery on Monday morning (around 10 a.m.) to repair a torn Anterior Crucial Ligament in his right knee.  He tore the ligament a few months ago playing soccer but didn't get checked out until a little over a month ago because we have been so busy. This is the second torn ACL that Joel will have had repaired as he tore his ACL in his left knee in his senior year of high school.
The surgery itself isn't too, too major in that they'll only be working on his knee and that he'll only be in surgery for 1.5 to 2 hours.  However, your prayers are appreciated regardless.  What's more is the recovery.  After the surgery, he'll be in the hospital for one night afterwards and then he'll be immobile for practically month.  He'll only eventually be able to get around with the use of crutches.  He'll then start physical therapy which lasts an additional 5 months, so he won't be able to play soccer or tennis for 6 months after the surgery.
Finally, we hope that during the surgery that Joel's nose doesn't light up red and he make a loud buzzer noise  when the doctors are trying to repair the ligament (remember the board game "Operation" — pictured left).