Happy New Year everyone!
We decided that since we didn't go to visit family in the States and no one was coming here over the Holidays  that we would take a mini family vacation right after the New Year before getting busy with another year of ministry.  This last year was a good but long year for us with many ups and downs and so it was nice to spend some time as a family just enjoying some of the beautiful places in Ecuador (which there are many).  We decided to spend our time in the Banos, Shell & Puyo area of the country.  These three towns/cities are located on the edge of the jungle and have many fun and exciting things to do.  Here's some pictures so you can get an idea of our vacation. God bless!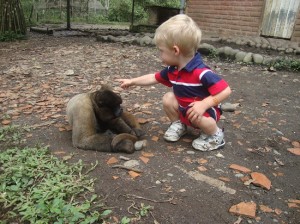 One of our coolest experiences of our entire time was visiting a monkey refuge where the monkeys were free to come right up to you and play with you. Here's Simeon petting the Alpha monkey.