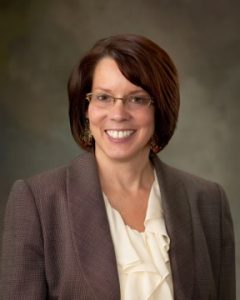 Susan Cosio is an ordained Covenant pastor, spiritual director and board-certified chaplain. She serves on the Pacific Southwest Conference (PSWC) Executive Board and is the creator and facilitator of a contemplative retreat for women in ministry called, "Echo: Women Who Hear and Respond to God's Call."
We still have a landline. That ages me, I guess. But we keep it for those long-shot callers who don't have our cell phone numbers. (Although the only calls we actually get are from telemarketers and CVS Pharmacy reminding me to renew my prescriptions.)
And from my Mom.
Even though I've reminded her for years that the best way to reach me is on my cell, she insists on leaving me messages at home. She says she's afraid she will interrupt me, or catch me at a bad time. She's never been one to intrude.
So she leaves me a message, asking me to call back when I can.
"When it is convenient."
"When you have time."
"When you aren't too busy."
And then, I think she waits and hopes that I will get back to her. Which I do…at some point.   When I notice the blinking light that shows me she left a message.
I wonder if God ever feels the same way. Is God sending us messages in hopes that we will respond to His call? Are we sometimes too busy or distracted to even notice? Or perhaps not sure we want to get back to Him? Maybe we've started a dialogue with God only to be interrupted by someone or something else, like the "call waiting" beep that can interrupt a telephone conversation.
When God first called me into ministry, I pushed the "call waiting" button for a while. I had three young children and a husband with M.S. There were lots of other voices and needs distracting me. How did God expect me to get through seminary? And what would my friends and family think? Would people accept me as a woman in ministry? I had lots of excuses. I wanted to put that conversation on hold.
I can relate to the apprehensions of Moses. When God speaks to Moses from the burning bush, calling him to lead the Israelites, God says the powerful, identifying words, "I AM."
But Moses feebly protests, "Who am I?"
Moses covers his face and is afraid to look at God. He cites reasons he isn't equipped for the job, starting with his fear of how people will respond. He focuses on his own inadequacies, instead of on the powerful One who calls.
The prophet Isaiah is also undone by the presence of the Lord, falling on his face as a "man of unclean lips." But when God asks, "Whom shall I send as a messenger to this people?" Isaiah boldly proclaims, "Here I am. Send me."
When the angel appears to Mary, to tell her she will conceive the Son of God, she responds, "I am the Lord's servant. May everything you said about me come true."
It isn't an easy assignment. But she is willing to accept it.
It can be intimidating to see ourselves as pastors, missionaries, and chaplains. These are not easy roles. For women in ministry, the obstacles and distractions often seem even more daunting than they are for men.
But God promises to equip us for the roles He calls us to. And God promises to walk with us and lead the way.
As a hospital chaplain, I often find myself in challenging, overwhelming situations. I never know what crises I will face from day to day. But I am reassured by the knowledge that Jesus is always with me in the room.
God's reassurance to Moses is, "I AM the one who calls and sends you out." His promise to Mary—and to us— is, "I am here."
Our response to God should be to echo back, "Here I am."
Here I am Lord. Use Me. Here I am Lord. Send me.
God is often like my Mom, patient and lovingly waiting. He is not one to use his power to intrude and control our lives. He knows we are often distracted by other things. But God's Call to us is the most important message we will receive. Let's not keep that call waiting.