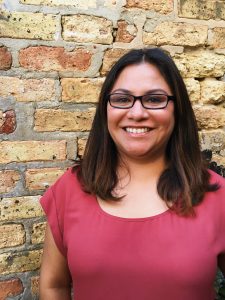 Evelmyn Ivens graduated from North Park Theological Seminary in 2013 with a Master of Arts in Theological Studies. She enjoys travelling and learning about other cultures. Evelmyn is passionate about issues of immigration, hunger, poverty, and human trafficking. She is waiting on what is next.

The Gift of La Sobremesa
Back in September I decided to quit my job, the thing is that it wasn't just a job but it had been my ministry for 2 ½ years. However, I had reached to a point where I was emotionally, spiritually, and physically exhausted. I had been so hurt and I was burned out. I jokingly told my friends and family that I was on a sabbatical, and I intentionally took four months off, and all I focused on was on taking care of myself. Attended a music festival with friends, saw Hamilton, went to the Cubs World Series Championship parade, attended a lecture by one of my favorite theologians, Gustavo Gutierrez, visited my family in Mexico for holidays, and was able to spend some time with my grandfather Tomás before his passing. I even picked up on cooking and baking something I never thought would enjoy doing! However, it wasn't until the beginning of the year that I started looking for job and had the energy and mental capacity to actually write a cover letter and have job interviews.
It has been a challenge to spend my days at home not knowing quite sure what is next, getting bored, and other days worrying about my finances. Yet, in the midst of this journey of the unknown, as I like to call it, God has provided, just as he's provided in the past, and continues to provide even the most basic needs. God has been so present through my family, friends, and the gift of time. In the last 7 months I have spent time with a community of friends that I haven't experienced in a long time. Our culture is such, that being busy is the norm, and even thought we may spend time with family and friends, is it really quality time?
A number of years ago as I began to do research for my thesis I landed on the concept of la sobremesa. Sobremesa literally means over the table. In Latinx culture hacer la sobremesa is part of life. Hacer la sobremesa means to stay at the dining table after eating, or to have an after-dinner talk. It is a time to spend with the family. It could be hours of just talking, joking around, laughing while enjoying dessert, coffee, or a cup of hot chocolate. It could also be at the company of friends, while listening to music, enjoying food, and more conversations. Some Latinxs might say that it is a necessary time. La sobremesa could start at lunch time and connect to dinner time. It is also a time where people from different generations interact with each other. It is a time where everyone sitting at the table is at the same level, there are no hierarchies. It is a time to relax and enjoy each other's company. I used this concept to develop the idea of la sobremesa as a contextual expression for Table Fellowship. Throughout the Bible meal-sharing and table fellowship have such deep meanings. There are stories of individuals having a fresh beginning on their relationship over a meal (Genesis 26:26-31), or communities dealing with conflicts of ethnicity and class while eating together (Acts 10:1-11:8 and 1 Cor. 11).
I feel that this is what I being doing for the last 7 months, I've been practicing la sobremesa and it has been very healing process. The fact that I have had the time to just be with people, cook, and enjoy hosting. La sobremesa has allowed me to experience God through others in a different way. In one of his first interviews after becoming Pope, Pope Francis (interview in Spanish and Portuguese) talks about projimidad (proximity). He says that humanity has become dehumanized and that there is a globalization of indifference and lack of proximity. Francis encourages for a culture of getting together and for finding ways to do good with others. By doing la sobremesa and experiencing projimidad with others, has been a gift and breath of fresh air in midst of the unknown.