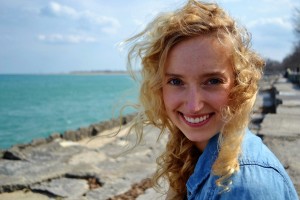 Ellie VerGowe currently serves as Ministerial Resident for Community Outreach at First Covenant Church in the Capitol Hill neighborhood of Seattle. She is a singer, an artist, a traveler and she is passionate about building relationships and pursuing reconciliation. On the many gray evenings in rainy Seattle, you can find Ellie eating good food with good people.
There's something about growing up woman that makes many of us feel like we need to give until we break (and then give some more).
Of course selflessness is all apart of our faith, right? Our God became like a servant and became obedient to death…even death on a cross. We are supposed to love others and to give up our lives for our friends! This is scripture, after all. This is the example of our Savior.
But this is something that is already a strength of many women from our social conditioning…from watching the matriarchs of our family and from watching the servanthood of the women at church. This is something most women already know how
to do. It is embedded in our culture and in our hearts.
But while this might seem like a gift, our world teaches women and girls a way of selflessness that leaves us empty and wounded. I have found myself over the years always saying "yes" to whatever people asked of me wherever I found myself. I overworked myself in ministry, working hours over normal work weeks to care for others. I thought I needed to please others and to give up my rights. While both Christian men and women are told that selflessness is a virtue, women are taught this to a higher degree and in a different, more painful way. We should always be the ones who load and unload the dishwasher in the office kitchen. We should be a listening ear for anyone and everyone and give them motherly love. We should sacrifice our thoughts and desires for those of the men around us (whether they realize it or not). I accepted early on that my job was be quiet and to serve. I know I am not the only one.
And so, when Lent came around one of the years I was in college and people were giving things up, I wondered what might be helpful for my relationship with my Creator…should I give up eating sugar? Or television? Or cafeteria pizza? Or…?
And what I settled on seems a little ridiculous. While out at a restaurant with some friends, I settled on ordering myself a crème brûlée for Lent.
And that isn't all. I settled on giving up pleasing others for Lent. I decided to give up saying "yes" to things and instead take some time to recharge. I chose to do things I loved doing. I chose to take time for self care. I chose to thrive, to value myself and enjoy things I loved…things like crème brûlée. I wasn't lavishing myself with expensive things (like crème brûlée sometimes is!) for 40 days…I was simply choosing to treat myself with kindness, allow myself to rest and be me. I chose, most truthfully, to create in my rhythm a healthier balance where I followed our savior who both gave up of himself out of love for us and who ALSO took time to go off to a quiet place and recharge with his friends. This may not be everyone's needed Lenten discipline for further discipleship, but it was mine.
And you know what? Against all odds, it was hard to practice!
You see, my mind told me what I needed to do to be a more balanced human, but years of practice and bad theology got in the way. I had grown up believing that selflessness meant letting myself be walked over. I grew up thinking God wanted me to be miserable. It was hard to not feel guilty as I did things I wanted to do for a change and made my own desires known. I felt that, perhaps, God was disappointed in me…that maybe I wasn't doing enough for the Kingdom.
But as time went on, I began to see that God's Spirit in me valued me more than I did. My desires were not antithetical to God's. As I have continued this Lenten tradition from year to year, I have noticed that it allows me to simply be more human. I am not God. I also cannot care for others if I do not care for myself. I can't give out of cupboards that have nothing in them.
It all seems pretty common sense, but women struggle with this most I think. This Lenten discipline is about 9 years old in my life now, and I still don't have it down. Self care takes constant work (and it is not only a Lenten discipline!). It will take a long time for the pendulum to swing to a balance where I live into the calling of being BOTH servant and child of the God. But I am learning that I am not here to be used for other's purposes…even if they are good. I am here because of and for a God who took time to rest. And I am loved by that God! That God has my best in mind! That God is kind to me…can I be kind to myself?