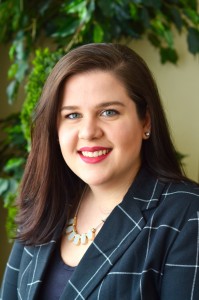 Mandi Cherico is co-pastor of Sojourner Covenant Church in Evanston, Ill. Born on the East Coast and raised in the Midwest, she is passionate about safe spaces, beauty, the Bible and Beyonce.
Last Tuesday was bigger than politics. It was bigger than a victory for the Republicans or a defeat for the Democrats. Last Tuesday, a national message was sent to women, people of color, people with disabilities, immigrants, Mexicans, the LGBTQ community, muslims and every other group who has been insulted and threatened by the president-elect and his supporters. The message? You don't matter. Marginalized groups stand to lose the most after last Tuesday. Make no mistake.
The president-elect did not invent modern sexism. Long before the tweets were published or the audio was leaked women were getting grabbed and interrupted and insulted by men. That's unfortunately not new. What was so disheartening and frankly terrifying about last week was that a renowned practitioner of misogyny not only got away with it (this, too, happens all the time), but that half the country knew this and still handed him the world.
81 percent of white Evangelicals voted for the president-elect. That means most Covenanters. That means some people who are reading this. This was predictable. Since 1980, you'd be hard pressed to find a white Evangelical who would vote democrat, mainly because of the church's deep connection to the 'pro-life' movement. Historically, white Evangelicals have always rejected the leadership of anyone who is not a white heterosexual male, so again, it's not surprising that Hillary Clinton wasn't a favorite.
It's not surprising that most white men voted the way they did last Tuesday. It's not surprising that most white Evangelicals voted how they did last Tuesday. However, there is one piece of data I can't get out of my head: according to CNN exit polls, 53 percent of white women voted for the president-elect.
For this I grieve. For this I confess my role in not engaging more with my white sisters during this political process. White women saw or heard the sexist actions and words of the president-elect. They likely heard the Access Hollywood tape. They knew about the heinous online bullying. They saw his blatant disrespect of Hillary Clinton during the debates, during his own campaign appearances, in interviews. They saw all this and they still thought this man was worthy of the highest office in the land.
Somehow, white women found a way to differentiate ourselves from the women the president-elect has insulted or assaulted. We believed the fantastic stories of "it's not that bad" and "it would never happen to me" – old lies propped up by the shaky scaffolding of lowered expectations and heightened class differences. Perhaps 8 years of an administration that at least projected a high regard for women has made us forget just how susceptible we are.
When the president-elect signs off on the assault of women, none of us are safe. The fact that white women couldn't recognize this scares me more than any other statistic because it means that misogyny is stronger than I thought. It infects women more than I thought. I bemoaned this with some women pastors last week. The words of my classmate Baily Warman keep ringing in my head: "We can't even show up for ourselves."
This is why I grieve, and why the results of this election have me doubling down on my efforts to empower, partner with and educate women who look like me, not just for their sake but for the sake of the world. Because white women have relative power and privilege. We have the responsibility to use this power for the good of ourselves and other marginalized groups, as God calls. Make no mistake: no one will fight this battle for us. The Oppressor prowls around like a lion and tempts us to sell out for false morality and male acceptance. We are in the fight, whether we like it or not. All we get to choose is which side we're on.
White women: if we want Biblical equality, if we want to see justice in this land, if we care about people on the margins of society, we have to participate in the work of the liberating Gospel. We have to take it personally. We have to practice ruthless respect of the divine image we and others bear.
We must learn to show up for ourselves.