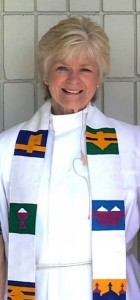 Rev. Elizabeth (Liz) Jensen is an ordained Covenant Pastor serving as the solo pastor of the Evangelical Covenant Church of Venice Isle in Venice, FL. She is the treasurer of Advocates for Covenant Clergy Women (ACCW), and the President of the SEC Ministerial Association. She also serves as treasurer and chaplain for the Military Officers Association of America (MOAA) Venice Area Chapter; her husband is a retired Lieutenant Colonel from the Minnesota Army National Guard.
I was on my way to Kansas City to attend Triennial. I had not been since the first one I attended in Portland back in 2004. I was excited. I was glad that my connecting flight from Atlanta to KC was on time; I wanted to be there for opening worship and then take in, or be refreshed by all that was offered.
I had my window seat, this time seated toward the rear of the plane. A young woman was seated next to me. She was tan and slender with long dark hair. She was on her way to visit friends in the KC area. There was a young man seated next to her. They chatted most of the trip and I pretty much read my Covenant Companion from cover to cover, taking a cat-nap every now and then. I devoured the issue celebrating 100 years of Women's Ministry and the 40th anniversary of the decision to ordain women. It seems we landed shorty after I finished the last article.
As has happened on every flight I have recently taken, when we landed the flight attendant announced that we should remain seated with our seatbelts fastened until the captain turned off the seatbelt sign. When the sign went out, everyone stood up, except folks like me in window seats; not enough headroom for that.
The people in the row in front of me appeared to be grandparents with their 5-year old grandson. Grandpa and grandson stood together. Either Grandpa was holding the young boy or the child was standing on the seat. The child and the woman who had been seated next to me greeted each other. She asked him how old he was. And then Grandpa asked the child, "What do we say to pretty women?"
"Hey, baby!" the child said. Grandpa quickly echoed the child and laughed. The child then repeated the statement several times, much to the delight of Grandpa. I was not so delighted, but I also chose to remain silent. It struck me that this child, at this young age, was being taught to objectify women. In retrospect, perhaps Grandpa was objectifying this woman but doing so through his grandson.
So, this is my rant. Without intervention, this child will think it is perfectly OK to greet certain woman with "Hey Baby!" I will leave to your imagination what else they might be teaching him, be it about greeting women who are not tanned, trim, pretty and young, or seeing women in church leadership, or seeing others who are different, be it in size, shape, color, or ability.
It pains me to think that the normal in this Grandpa's world will become the normal in his grandson's world. And I simply ask us to tune up our awareness of what we are subtly and yet surely teaching our children and grandchildren.
We can teach them how to be conversational and cordial without being demeaning. Within our families and among our friends let us begin a campaign to wipe out "Hey baby!" and all such demeaning and objectifying language.
BTW, this incident did not have a negative impact on my experiences at Triennial. Triennial was a marvelous celebration and demonstration of what God has done and continues to accomplish through His daughters. I was blessed and refreshed!