Dru McLeland graduated with a Master of Divinity degree from Northern Theological Seminary in June and is currently seeking God's next place of ministry call in the ECC. In the meantime, she and her family are enjoying their new Cavachon puppy, Zoë Ruby Regina.
Recently, I had a conversation with a young woman who is a chaplain in training about women in ministry and I mentioned the ECC's Commission on Biblical Gender Equality. She asked, "Is there gender equality in the Bible? Isn't the Bible patriarchal?" I answered, "Well, yes, especially in the Old Testament." I started asking, why? I don't see patriarchy in the creation of Adam and Eve. Both are created in the image of God. God blessed THEM, and told THEM to "fill the earth and subdue it; and have dominion…over every living thing that moves upon the earth. God did not give a command that society has to be patriarchal. I wonder is patriarchy God's design or is it something humans created?
Several years ago, I read All God's People (here). In that book, Jay Phelan's brief history of hierarchal development was my first introduction to the idea that patriarchy may not be God's creation, but I wanted to know more. Since I had thousands of pages to read for seminary classes, I set aside my question but occasionally returned to it and asked God to show me more. The Teacher did not forget my question. My final class in seminary, Women of the Old Testament, addressed it. One of our texts was The Creation of Patriarchy, (here)by Gerda Lerner (New York: Oxford University Press, 1986.) the first in a two-volume work.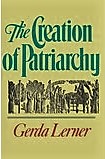 Lerner, who died in 2013, had an unusual childhood in the early 20th century that included a Bohemian mother, escaping the Nazi's, and targeting by McCarthyism. She made the study of African American and women's history her life's work. For a brief biography of Lerner, click here.
Her book is an attempt "to trace, by means of historical evidence, the development of the leading ideas, symbols, and metaphors by which patriarchal gender relations were incorporated into Western civilization" (p. 10). As one who is newly conscious of the role of patriarchy in Western society and witness to its creep into the Church, but not a historian, I found her book a great place to start and a springboard for further investigation and study. She includes anthropological evidence of societies that may have been egalitarian and others that may have been matriarchal to show that not all ancient societies were patriarchal. She challenges the tradition of patriarchy which she asserts has been "mystified… making it ahistoric, eternal, invisible, and unchanging" (p. 37). This may seem a little over the top to some, but I think it challenges us to think about our views of patriarchy and how it effects our lives as well as those around us.
One of the main ways Lerner's writing challenged me was the connection she made between the oppression of women when they are seen as objects and how this paved the way for slavery of all kinds. Women came to be seen as a commodity, as belonging to a man or household, with their status established because of their ability or lack of ability to produce offspring. The strength of the natural urges of a mother to protect the life of a baby set her apart from men. Especially in war, this vulnerability made women more easily subdued and subjected to slavery by conquerors. Lerner hypothesizes that the enslavement of women was a precursor to slavery in general. Women came to be seen as less than human, "other" and treated as an object or commodity. Lest we think this is history only, we have only to look at the numbers of people who are victims of human trafficking because someone is willing to pay for them as a sex object. (See the US Government 2016 report on human trafficking here; find your state here.)
Against the context of Lerner's book, I see the Apostle Paul's letter to the Ephesians as just as radical in our day as in his. Christ came to break down the divisions patriarchal systems create. He came to create a new humanity where all are one with new identity as members of the household of God, no matter what we are able contribute, but because we are human beings, created in God's image.
But now, in Christ Jesus you who once were far off have been brought near by the blood of Christ. For he is our peace; in his flesh he has made both groups into one and has broken down the dividing wall, that is, the hostility between us. He has abolished the law with its commandments and ordinances, that he might create in himself one new humanity in place of the two, thus making peace, and might reconcile both groups to God in one body through the cross, thus putting to death that hostility through it. So he came and proclaimed peace to you who were far off and peace to those who were near; for through him both of us have access in one Spirit to the Father. So then you are no longer strangers and aliens, but you are citizens with the saints and also members of the household of God, built upon the foundation of the apostles and prophets, with Christ Jesus himself as the cornerstone. In him the whole structure is joined together and grows into a holy temple in the Lord; in whom you also are built together spiritually into a dwelling place for God. (Eph. 2:13-22, NRSV)
Whether one agrees with Lerner about the creation of patriarchy or not, I believe there is a challenge for us as we look at others. I ask myself and invite you to ask yourself a couple of questions. When interacting with others, do I see them as objects or commodities in anyway? Do I remember I am united in Christ with other Christians when we interact?
I would like to continue this conversation. Where have you discovered that you might be seeing another as an object or "the other" rather than God's created person? If you have read Lerner's book, what do you think about it? Please leave a reply.