Megan Herrold is a pastoral intern at Resurrection Covenant Church in Chicago. She is currently pursuing an MA in Christian Formation at North Park Theological Seminary, and is the seminary's student representative on the ECC Commission on Biblical Gender Equality.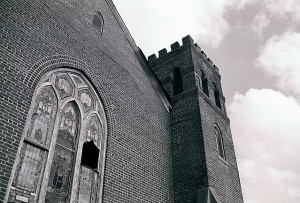 A couple of months ago we had our spring meeting for the Committee on Biblical Gender Equality. During that conversation, someone asked the question, "Why is this important?" As in, why do we think it's important that women are welcome to be ordained? Why do we think it's important that all people in our denomination welcome women to be ordained? It's a question I've been thinking about again as we get closer to this month's Annual Meeting.
I can't say that we had a clear-cut answer, though the question wasn't really asked in a way that required one.
I can't even say that I had a clear-cut answer. But I wanted one, at least for myself. I'm just the type of person who likes to have reasons for what she believes.
It just happened that this meeting came the day after my midterm in my Old Testament class. The exam primarily focused on Genesis, including the story of the Fall into sin laid out in Genesis 3-11. I'll be honest, until this point, I had only thought of the Fall as Adam and Eve eating fruit in the third chapter of the book, and this class gave me new appreciation for the fuller depiction of sin and its many facets that Genesis gives us.
The message overall was the idea that the effect of sin on God's good creation broke relationships between God, ourselves, other people, and the rest of creation. In my eyes, today this means that people do not have space to live life to the fullest. There are barriers in the world that keep us from living into God's good plan for our lives—individually and as a community.
So that's my answer to the question of why this is important. When we don't welcome certain groups of people into ordination, or really into any profession or role in society, we put up barriers in the face of what God may be trying to do.
There's a reason I'm talking about welcoming women into ordination. There are plenty of people who may not be particularly opposed to ordained women, but also don't care a lot about the idea that some people do oppose them. That there are barriers. I think of this as acceptance without welcome.
Acceptance without welcome does not break down barriers. It doesn't help provide space for people to live life to the fullest, to live into God's plan for them.
This year the ECC celebrates 40 years of ordaining women. We also mourn and lament with those who have been hurt by a lack of welcome into ordination. For the last four decades, we've been striving to convince people why we should welcome women who seek ordination. I think most of us now agree, and if you don't agree at this point, I don't necessarily expect anything I say to convince you.
Instead I'm writing to those of us who agree with the practice of ordaining women, but don't really think of it as an issue anymore. And I say "those of us" because I find myself in this group sometimes. Since I first felt called to ministry ten years ago, I've had much more support than discouragement in my pursuit of that call. It's consequently easy for me to forget that this is not the experience for many other women, even though I grew up in a church that did not support women's ordination or female church leaders.
Yet I've heard stories of male pastors who support women in ministry, but don't want to speak up about it in their less-supportive congregations because to do so might put their job in jeopardy. I've heard of women who've been told that there are no pastoral roles for them in certain ECC conferences because those congregations aren't looking for a woman as their pastor. (I hesitate to share vague stories of unidentified people and places, but I've heard enough such stories that I'm convinced these are indicative of a larger pattern.) And when I expressed an interest in doing my North Park Field Education internship in a certain part of the country, I was told about a specific congregation that they don't recommend for female interns because they won't receive as much support in their call.
To me, these are all examples of how we can accept the idea of women in ministry, yet fail to consciously welcome women to that role. To really make space for all people to live according to God's plan, we can't just not put up barriers. We also have to help remove the barriers that are already there. And once again when I say we, I'm including myself: I have to remember that when I don't take risks to speak out on behalf of women, I'm practicing acceptance without welcome.
The effects of sin in our lives—individually and as a community—are not removed without constant work and striving to live according to God's will. The effects of sin do not go away because we stop sinning. We need to take concrete action to reverse that impact, and to ensure that all people whom God calls as ministers in any capacity have the space to respond to that call.