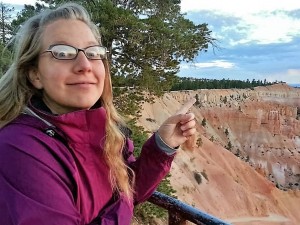 Rev. Cathy Kaminski is the lead pastor of Trinity Community Church in Cincinnati, OH. Before being called into ministry she received a Bachelor of Science in Film & Television from Boston University. She loves movies, but wishes the industry could be better. And she'll keep fighting for that reality.
"Does that movie pass the Bechdel test?" my professor asked.
The what? Blank stares from the hordes of freshmen taking Film 101.
"The Bechdel test. It's simple really. Only three criteria: 1) have more than one female character, 2) have the two characters talk to each other at some point in the movie, and 3) is their conversation something other than a discussion about the male characters?"
More blank stares. I'm not sure how many of us had ever looked at a movie this way. I mean, that's ridiculous, of course a movie would have more than two females…and talk to each other…and discuss something other than men…right?
I have always loved movies. Cheesy, mainstream, arthouse, it didn't matter to me. I love the way all films, no matter the genre have the capacity to make me think and point me to God. I strongly believe that all artistic expression has the potential to reveal our imago Dei, (our core nature and identity as image bearers of God). Pain, joy, suffering, resilience, conflict, reconciliation, brokenness, triumph, these are elements of any good story. Good stories reflect the human journey and thus reflect our Creator.
Yet, from the moment my professor posed this simple question I began to look at movies in a new light. Is there a disproportional amount of mainstream movies told through the lens of the male viewpoint? And if so, what is the effect? Our Creator formed a beautifully diverse people and when we tell stories through one point of view, we miss out. Not only that, but it reduces the "other" to flat, foil characters whom only serve to propel the male story forward. And this isn't just a male/female bias, sadly people of color and minorities are also marginalized in this capacity. And I believe we can do better.
Recently I watched the movie Risen,
and was a little taken aback. Why? Well call me foolish and naïve but I expected a story about Jesus's resurrection to include women! After all show me one person in all history who had greater impact on the empowerment of women? Jesus was RADICAL in his treatment, interactions and view of women. He broke down barriers, gave women a voice, disregarded social norms in order to give women value and purpose. He called them friends, disciples, and allowed their testimonies to transform the world! Jesus gave women a seat at the table when most never even let them in the house.
So upon watching a film about the resurrection and the days that followed, I was tremendously grieved that this fundamental story of my faith had ONE, I repeat ONE female character. And to boot, their interpretation of Mary Magdalene painted her as a one-dimensional prostitute who served as a means to connect the other male characters to the greater story. Needless to say I was outraged. Again you may ask: why?
Beside the fact that NO WHERE in scripture is Mary Magdalene portrayed in this capacity, this understanding of a "composite Mary" takes the witness of Mary of Bethany, (you know Mary and Martha, Jesus's close friends, sisters of Lazarus), the woman saved from adultery (John 8), the woman who anointed Jesus with oil (Matthew 26), and Mary Magdalene (woman who had seven demons cast out of her in Luke 8), all into ONE CHARACTER! Which, if you really think about it, devalues the magnitude of their stories. And in Risen, Mary Magdalene was basically a tool the story tellers used to connect the Roman soldier to the real disciples. (Italics used to underline the absurdity of such a statement: Mary Magdalene WAS one of the disciples!)
I'm sorry, but I expect more. And so should you!
For years I struggled with the idea of feminism. I thought it meant somehow disregarding or devaluing men. But with that understanding I missed the whole point. Feminism is about recognizing the value of women, seeking equality, and empowering women because ALL HUMANITY misses out when our world is skewed to one point of view. I miss out if a story is only told through a female view point. And I miss out if a story is told from only a male's.
So again, EXPECT MORE! Tell better stories. Recognize the lens in which stories are told and seek out more complex, diverse representations of humanity. Because we need diverse stories. We need other viewpoints. We need to be aware when we pigeonhole people and take away their voice and importance. We will all be better if we do. We will all see a more whole picture of God when we do.
I still love movies. And I haven't given up on the film industry. But I will keep challenging them to be more. Be better. And I hope you will too.