Catherine Gilliard is co-senior pastor of New Life Covenant Church in Atlanta, Georgia. She holds an MDiv and DMin from North Park Theological Seminary. Catherine mentors many pastors, leaders, and believers, both male and female, to live faithfully into their call to ministry and mission. She has been married for 36 years and is the mother of three adult children and grandmother to one amazing grandson.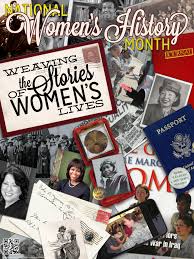 March is Women's History Month. In 1981, Congress passed a joint resolution to make the week beginning March 7th as Women's History Week. In 1994, Congress passed additional resolutions authorizing the President to proclaim March of each year as Women's History Month. We have this month to remember the many ways women have used their gifts to lead, challenge and change the church and the world. God's call, Jesus' inclusion and the Holy Spirit's gifting of women are stories worth sharing.
There are future generations of men and women who need to know the stories of women who lead. We are inspired by their stories of preparation, stories on how they continue to engage a world that insists women are not equal to men, stories about being mentored and mentors and how they kept going and were faithful to their call; all of these stories need to be told.
There is a narrative, being written about women who lead, that is being adopted by those who desire to widen the hostility that exists on so many levels between men and women who are called by God to lead in the church and the world. As I write these words, I am mindful of how formative this negative narrative can be. I am convinced that men are not the enemy of women and women are not the enemy of men. We are not the same, we are equal; equally called, equally gifted and equally faithful to lead.
I think about the women who have inspired women and men throughout our history. I am so thankful to know their stories. I look at the women today who continue to inspire women and men. They lead in the church and the world, knowing God is calling and using them to shape and transform the hearts of men and women who believe men can lead women but women can't lead men. The Spirit of the Lord is upon these courageous women and all of us are better when we know their God stories.
Stories of struggle and pain are a familiar themes of all pioneers whom God calls to challenge the status quo. Women leaders who share their testimony of call and journey raise our awareness and consciousness of the many ways systems are supporting and sustaining practices that are harmful, hurtful and misguided. I encourage you to read their stories and continue to listen to the voices on this blog. We need to know the stories of women that are woven into every fabric of our history and society.
As a mother, pastor, mentor, and leader it is deeply troubling that I am listening to the same harmful, hurtful and misguided stories that I shared with my mother during the beginning of the civil rights movement. It has been a long history of building collaboration and advocacy in order for all of God's creation to live obediently into call. So I thank the Lord for women past and present who share their journey and their hopes for a new narrative to be written. We can begin by remembering some of the timeless words written by women and share your own this month as a way of honoring, remembering and sharing them with other. I hope that you each are inspired to dream, endure, and advocate as you are inspired to remain faithful to call. Which words speak to you? Add your own.
"Every great dream begins with a dreamer. Always remember, you have within you the strength, the patience, and the passion to reach for the stars to change the world." – Harriet Tubman
"Is prayer your steering wheel or your spare tire?" – Corrie Ten Boom
"Life will reward you, but not always by the route you expect." –Edna Rodriguez
"No matter what accomplishments you make, somebody helped you." – Althea Gibson
"Give light and people will find the way." -Ella Baker
"Your silence will not protect you." -Audre Lorde
"Struggle is a never ending process. Freedom is never really won, you earn it and win it in every generation." – Coretta Scott King
"Close your eyes, take a deep breath, and welcome the beauty of life!" — Carla Sandoval
"I know God will not give me anything I can't handle. I just wish that He didn't trust me so much." – Mother Teresa
"Nobody's free until everybody's free." – Fannie Lou Hamer
"The most pathetic person in the world is someone who has sight, but has no vision. – Helen Keller
"It is when you have a crack in your heart that the light will come in." – Gabriela Rodil
Next to God we are indebted to women, first for life itself, and then for making it worth living. – Mary McLeod Bethune
"You have to have confidence in your ability, and then be tough enough to follow through." – Rosalynn Carter
"We can choose to be a character in a story written out by someone else or we can choose to be the author of our own story." –Ruby Garcia
"Knowing what must be done does away with fear." – Rosa Parks
"Never give up, for that is just the place and time that the tide will turn." – Harriet Beecher Stowe
"If we are to better the future we must disturb the present." – Catherine Booth
"Do what you can in the time that you have in the place where you are." – Shirley S. Raguindin
"Faith sees the invisible, believes the unbelievable, and receives the impossible." – Corrie Ten Boom
"Remember your roots but expand your worldview." – Soledad Muesco Manaay