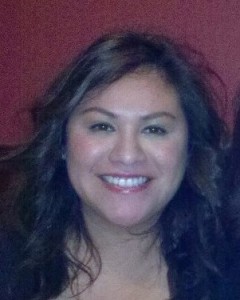 Evelmyn Ivens works at the Christian Community Development Association (CCDA) in Chicago and graduated from North Park Theological Seminary in 2013 with a MA in Theological Studies. Evelmyn was born in Mexico and moved to the United States during her teenage years; she has lived in Los Angeles, CA, Washington, DC, and Chicago, IL. Enjoys traveling and learning about other cultures. She's passionate about issues of immigration, hunger, poverty, and human trafficking.
A couple of weeks ago I had the amazing opportunity to watch the speech of Pope Francis right outside the U.S. Congress. Myself along with thousands of people waited for hours just to get a glimpse of this fascinating man. It was an experience of a lifetime, not everyday you get to see a Pope! My interest for Pope Francis started since the day he was elected, I remember I was working on my thesis and had to take a break, turned on the TV and there it was, such a historical moment. It gave me the chills to see how this Latin American religious leader had become the head of the Roman Catholic Church. Off course I was watching the news in Spanish and even the reporters were very excited. I eventually, turned off the TV and continue writing, however, I was very excited! I knew that this election would bring change in the religious world.
I had shared in previous posts that I had grown up cultural Catholic in Mexico, and after I had my encounter with Jesus, I resented the Catholic church. Even in some Hispanic evangelical circles people continue to see the Catholic church with resentment and distrust. However, throughout my faith journey I had met and became friends with very devout Catholics, even my grandmother was an extraordinary woman faith and Catholic. My faith journey and my seminary education have really shaped the way I understand my own identity as a Latina evangelical, which has a close connection with Catholicism. When I was in seminary I came to really appreciate my Catholic upbringing, which is something that continues to influence my life.
When I found out that the Pope Francis would visit the U.S. I very much wanted to be there. I wanted to hear first-hand what he would say, especially, when he talks about the poor, redistribution of resources, immigration, refugees, human trafficking, etc. It ended up being such an adventure, but I got a ticket to be on the west lawn of Capitol Hill. I flew to Washington, DC and waited for more than four hours to see him after his speech before Congress. There was such a great energy, everyone seemed to be very excited, young, old, people from very diverse backgrounds, we all wanted to see him! After his speech, which by the way I would encourage you to read it because he said some very interesting things. Pope Francis came out to the balcony, he greeted us in Spanish and the crowd went wild! He prayed for us and asked us to pray for him, he even said that if we didn't know how to pray, to send him good thoughts.
Wherever your thoughts are about the Catholic church there's no denying that this man has given a fresh air not only to the Catholic church but to the Church. I'm just very grateful that I got to experience this, I think of it as a reconciliation between both my Catholic roots and my evangelical living.