Jo Ann Deasy is an ordained Covenant pastor currently serving as the director of institutional initiatives and student research at the Association of Theological Schools in Pittsburgh, PA.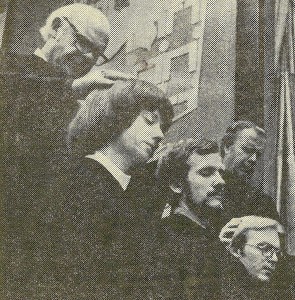 On Monday, August 24, 2015, we lost one of the pioneers of women's ordination in the Evangelical Covenant Church. Sherron Hughes-Tremper, the first woman ordained in our denomination, passed away at the age of 70 following a full life of ministry dedicated to those on the margins. (To read her obituary click here here)
Sherron did not spend many years pastoring in Covenant Churches. The path was too new at the time and churches were not ready for her gifts and calling. Instead, she found other paths, chaplaincy, the United Methodist Church. Yet she remained committed to and connected to this denomination, despite the pain that came with being ordained into a community that could not find a place for her.
I am a not sure when I first met Sherron. My clearest memory of her is at the Covenant Annual Meeting held in 2008, the 30th Anniversary of Sherron's ordination. I was honored to work with Carol Lawson in the Department of Ordered Ministry and Ruth Hill from Women Ministries on a video marking the occasion. The video included honest reflections of women serving in ministry in the Evangelical Covenant Church, both the joys and the struggles, as well as statements of support by several denominational leaders and faculty members.
At the Annual Meeting itself, there was a celebration of the 30 year anniversary and a chance to publicly honor Sherron and Carol Shimmin Nordstrom who was also ordained in 1978. If I remember correctly, the moment was full of both joy and deep pain. It was an acknowledgment of two pioneering women that was long overdue. It was a chance for a denomination to ask forgiveness for the hurts caused, for the doors closed, for the women sacrificed in the midst of theological debate and congregational politics.
When I was first ordained in 1997, I began attending the Association of Covenant Clergy Women gatherings (now the Advocates for Covenant Clergy Women). Few women my age were willing to associate with the group. It was full of so much bitterness, they argued. The women just wanted to moan and complain, they said. We haven't experienced that hurt, they reasoned. We don't want to be associated with those angry women, they said.
I understand now that these women, these Covenant Clergy Women, had been pioneers. They had walked into the new frontiers of women's ordination and came out bruised and battered. They had gone forward with hope and courage, but had lost something along the way. The very church that they loved and had sacrificed to serve had hurt them deeply… hurt them and then failed to acknowledge the wrongs they had committed. The women held the pain of a wound within our denomination, held it until it could be brought to light and healing could begin.
As we honor Sherron, Carol, and the other women who have gone before us, may we not forget the sacrifices that have been made for women's equality within our denomination. May we honor those who have gone before us, seek to heal those who have been wounded, listen to the pain and anger as we seek to bring healing and live into the hope that was made possible by their sacrifices.