Veronica Gilliard is a member of New Life Covenant Church in Atlanta, Georgia. She also serves as secretary of the Southeast Conference Women Ministries Executive Board. She is also currently a student, pursuing her PhD in Educational Leadership with a specialization in Higher Education. In her spare time she enjoys cooking, bowling, and reading.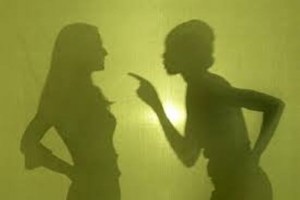 Groups that are ascribed inferior status are often delegated less power in the public eye. Women, in 2015, are still a perfect example of this notion. Whether we are discussing being paid cents on the dollar, still being rejected in some aspects of church leadership, or consistently being portrayed by the media as both hypersexualized and less intelligent than our male counterparts, the world has been clear in it's message: women are second-class citizens, a means to an end.
As frustrated as women are with the misogyny and patriarchy of our world, many of us are equally, if not more frustrated with an unlikely group – other women.
God made no mistakes when making us women. And God's choice to do so makes us daughters of the King Most High, in short, princesses. While some of us think of this identity as a gift that vests us with agency, what we often witness when relating to other women about their own agency, or lack thereof, is more reminiscent of the typical fairy tale princess who is trapped and awaiting a dramatic rescue from her macho male hero.
While women will undoubtedly need male partners on this long journey toward equality, we ought not trade their voice for our own. Women must not prod men to speak up for them, on their behalf, in pursuit of equality, while they themselves remain quiet. Instead, we ought to partner with men while also unashamedly advocating for ourselves. But how do we effectively advocate for ourselves? It all goes back to relationships.
Here are four ways that I would like to challenge women to advocate for women.
1) Be a mentor. Contrary to popular belief, this is not an option. As women who truly believe in gender equality, we are expected to give back to other women. Bottom line. Period. Now some of us will take issue with this statement, and that's okay, but if you will, indulge me for a moment. Most women that we speak with take issue with the idea that they have a responsibility to mentor other women either A: because they themselves do not feel enlightened enough/worthy/successful/smart enough to impart upon another woman's life, or B: they do not see the value of mentorship. Both of these excuses are lies the world has fed you in order to make you feel insignificant. You have the opportunity to help your sister.
2) Personally ascribe some worth to your life. Your life is full of meaningful experiences and learned lessons. None of us were meant to go through these experiences in order to keep a storehouse of wisdom solely for ourselves. Instead, we ought to reflect and think of what we needed most in our most difficult moments as women. For many of us, at the bare minimum, we needed a listening ear. However, most of us would have been even more thankful for a listening ear from a woman with a shared experience. You have the opportunity to grow, my sister.
3) Be a mentee. We all have something to learn, particularly from other women. While you are called and expected to mentor, we also have a responsibility to remain humble, consistently having our own mentors speak into our lives and hold us personally accountable. You have the opportunity to learn, my sister.
4) Be a friend. As mentors we are helping to lead individuals. As mentees we are being influenced and led ourselves. As friends, we have the blessing of playing a distinct role in which we can empathize with the suffering, victories, joys, and sorrows of others. We can listen differently, respond acutely, and act lovingly in a manner that is more interpersonal than a mentee or mentor, but equally as important. You have the opportunity to love your sister.
As acclaimed author Alice Walker once said, "The most common way people give up their power is by thinking they don't have any." So, my sisters, I challenge us to reclaim our agency by building purposeful relationships with other women as mentors, mentees, and finally, as friends. As we begin to practice these types of relationships I pray that the wisdom we gain from these experiences will allow us to see how our responsibility to empower one another in these distinct types of relationships, noting how they differ and what individual purposes they serve in terms of emboldening women to identify, proclaim, and protect our self worth.
Amen.