Nilwona Nowlin currently serves as the Administrative Specialist for Governance for the ECC and is an active member of the Christian Community Development Association. In her "spare time," Nilwona teaches workshops about living successfully as an introvert. She also randomly blogs about random things at
thedreamerspeaks
. Nilwona is a member of the launch team for Kingdom Covenant Church (Chicago).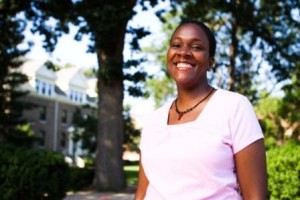 The concept of intersectionality, popularized in the 90s by law professor Kimberlé Crenshaw, is the theory of how different types of discrimination interact. For example, as a black woman, I've experienced discrimination based on my ethnicity or gender. Intersectionality addresses the discrimination I also face based on the unique combination of my ethnicity and gender. In a nutshell, it explores the variety of ways in which people/groups can be "othered." When discussing privilege and power, we – in society and the church – often look at such categories as ethnicity, gender, class, physical abilities, religion, age, etc. These categories create an endless combination of subcategories that can be explored through the lens of intersectionality, but I want to share with you a bit of my experience with an often overlooked area.
Approximately  just over one half of the United States population is made up of introverts, those individuals who generally lean more toward: being energized through time alone, processing internally and preferring a few deep relationships to a lot of surface level relationships. Though the majority of our population consists of introverts, we function as an extraverted society – in business, education and even the church. How does this discussion fit into a forum for advocates of biblical gender equality? Intersection.
It's hard enough to be an introvert in ministry; but when you add the fact that I am also a woman of color, sometimes I'm amazed that I even bother trying! Introverts often struggle with the tension of being internal processers in a society where we teach that the squeaky wheel gets the oil. As a woman of color, I already face the obstacle of people's assumptions that I am not qualified to be at the table. So then, for example, I know that if I am silent during a meeting or class (because I'm processing), I risk being written off as not having anything of value to contribute – because I am a woman of color.
Over the past two years, I've been doing a lot of speaking on this topic (ironic, I know). Most often, the majority of my workshop participants are people of color and women (including women of color) who identify as introverts. Most of these participants have been made to feel (by society and the church) that their introvert-ness is a problem that needs to be fixed. As a woman of color who is also an introvert, it's hard to discern whether I've been marginalized in ministry because I'm a woman, because I'm black or because I'm an introvert. But, as intersectionality has taught me, it's more likely a combination of all three – because these parts of me are so tightly woven together and can't be unraveled.
Yes, I just made this conversation even more complicated. But my hope is that we are committed enough to this cause to be willing to explore the waters of intersectionality and how it impacts women in ministry. If you'd like to learn more about introverts in particular, I highly recommend Susan Cain's "Quiet: The Power of Introverts in a World that Can't Stop Talking" and Adam McHugh's "Introverts in the Church: Finding Our Place in an Extroverted Culture."