Jo Ann Deasy is a Covenant pastor who has served in a variety of ministerial roles including Youth Intern, Minister of Christian Education, Dean of Students, and Solo Pastor. She is currently serving as Director, Institutional Initiatives and Student Research at the Association of Theological Schools in Pittsburgh.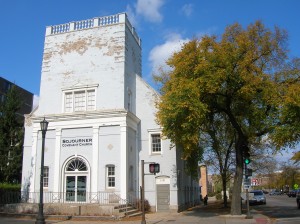 This past month Sojourner Covenant Church in Evanston, IL called Rev. Jennifer Gillan as their senior pastor. Jennifer is the third woman to serve as the pastor of this particular church. Rev. Isolde Anderson served the church in the 1990's and I had the honor of serving as pastor from 2010 to 2014. Serving as pastor of Sojourner Covenant was incredibly redemptive for me. Yes, there were struggles. Yes, at times they were related to gender. But the positives far outweighed the negatives. Here are just a few:
• The church never wondered about calling a woman pastor. They did not have to study the issue for the first time. They did not worry about people who might leave the church if they called a woman. All I had to be concerned about were the normal issue related to transitioning into a new position. I didn't have to worry about the added baggage of defending my right to serve.
• Our church had a preaching team and at one point it was made up of three women. No one questioned it. Yes, we did talk about the need to have some male voices in the pulpit. There were usually men on the team, but for a few months it was just the three of us.
• Not only were three women on the preaching team, we were all incredibly different! There was no single role model of what it was to be a woman pastor. There was an InterVarsity staff person with a strong, direct personality who was a dynamic exegetical preacher who often used pop culture references in her illustrations. There was the stay-at-home mom of four who began her sermons in such a humble way and then built to clear, biblical points peppered with great stories from life as a wife and mom. I was the esoteric one, whose sermons were often too abstract, more theological than exegetical, and whose illustrations were often from sci-fi movies. How often does a congregation get to see that there is no one type of woman who is called to pastoral ministry?
• For the first time I met young men and women who had only ever had women as pastors. They came to faith in churches with women pastors, attended North Park where they were mentored by Judy Howard Peterson, and then came to Sojourner. And they seemed to be doing just fine. Even the young men.
• I actually had more people tell me they chose to come to this church because I was a pastor than tell me they were leaving the church because of me. People actually saw a woman pastor on our website and thought that was a good reason to visit the church.
Yes, there were struggles, but it was one of the most redemptive congregational experiences of my life and for that I am immensely grateful.