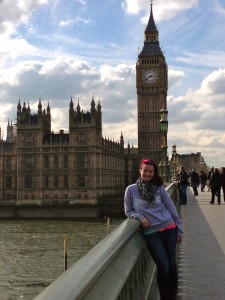 Becky Esser is a first year student at Seattle Pacific Seminary. Becky is working towards a Masters of Divinity, hoping to work in children's ministry. She is working at Highland Covenant Church as the Children's Ministry Intern. Being a native Washingtonian, Becky loves coffee and being outdoors.
When I started Seminary this fall, there was a trip out to a campsite for the new cohort. We spent four days reading theology, sharing testimonies, playing games and eating s'mores. One evening we made up a game, "Fantasy Church," where we each got to choose staff for our imaginary churches. The game consisted of multiple rounds starting with pastor, theologian and worship band. For my first two rounds I chose Rachel Held Evans and Sarah Bessey. These were the first two Christian authors I read who really believe that women have a place in ministry. The third round was for the worship musician at our church and I was going to have the last pick. For round three, all of the Christian bands I had thought of were chosen, so I had to think of an alternate. Having recently bought Mandisa's album I choose her. I instantly realized what I had unintentionally done: chosen all women. I paused, wondering if anyone would question my choice.
I had intentionally chosen Seattle Pacific Seminary because of their inclusivity of women in ministry. Female professors teach classes and over half of the seminary students are women. I expected it would be a place where I would be accepted and encouraged as I pursued ministry by my professors. But what about these classmates I had only known for a couple of days?
The silence was broken by a male voice, jokingly asking, "Are you going to only hire women for your church?" I smiled to buy time as I decided how to answer. Why not? For a game, did it really matter? Would this moment define how they saw me? Two of the women playing responded before I could. One asked, "Why shouldn't she?" while the other wondered, "Are you going to recruit any women for your church?" It was true he, like some of the others in the group, had not chosen any women yet. Assurances were made that they were just about to recruit women and the game went on.
As I look back I realize several important things happened that evening. I saw that with just a few days of friendship these women had my back. Their support has only grown since then and I am incredibly grateful for their friendships. I also saw how easily people could be blind to an unequal representation of women, even if they would be in full support of women working in ministry. The men showed a willingness to hear the women's perspectives and change course. I wish that changing people's minds about women in ministry could always be this easy. But in reality it is not that simple.
As a young woman entering into ministry I feel indebted to the women who went before me and opened up doors for women. I also feel called to continue that work and make it even easier for the next woman who feels called into ministry. I know that when I walk into a church I look to see if women are speaking, singing and preaching. There are so many other places I should look for equal representation of women as well. Are our church councils an accurate representation of the congregation? Do we preach about the incredible and inspiring women of the Old and New Testament alongside their male counterparts? Are the authors selected for seminary courses an equal representation of men and women? I am blessed to work in a church and study at a seminary where the answers are often yes. I feel called to continue to ask these questions and speak up when women need to be heard and respected. Through the game of fantasy church I saw my hope for the future of churches. I saw men and women who will work together to achieve an equal representation of women in ministry. Looking forward, I pray that God would use each of us to challenge and encourage our churches to move towards equality.