Mary Putera is currently serving as the interim pastor for Sunset Covenant Church in Beaverton Oregon. Mary has served in the ECC since 2001 as a pastor, pastoral consultant, facilitator of the I2RR and Sankofa journey and as a board member of ACCW and Women's Ministries. Mary is currently working to complete her PhD in the Theology of Beauty and Community Art practice for social transformation.
Sanctification has more to do with reconciliation and communion than simply advancing to a higher level. Sanctification in cosmic terms, means the coming together of heaven and earth… and it is a work of remarkable beauty… it is a beauty that comes out of a work that knows of struggle and suffering but also peace and joy.                                                                                                                    Alejandro Garcia Rivera
Are not human beings a very place where heaven and earth come together? Are we all not made of the dust of the earth,enlivened by the very breath of God? Does not psalm 139 attest that All are God's handy-work? And dear God knows of the struggle and suffering involved in reconciling us into communion.
How long I wonder, will God weep over gender lines that divide us, even though Jesus' blood was spilled for all of us, and the Holy Spirit gifts men and women equally? And then Hope returns in the memory of moments lived gender bias free.
One moment came with Prof. Michael Van Horn. Michael, just Michael, came alongside a female pastor in training, a female pastor with a vision for praise and worship for All Saints Day in Living color. He spoke through his presence, "If your going to dream it, then bring it! Not many words just a permissive presence that says enjoy the gifts of God for the people of God, with all people. With many collaborators of different gender and fleshly colors, sizes and shapes, God brought forth such a weaving along the walls and windows of the chapel so beautifully! It was God wrestling forth a reconciling of us human beings as we worked side by side, to bring forth hundreds of yards of fabric representing the Scroll of names of all the generations of scripture. And we wove the earthly names written on brown amongst the streams of the trinity, yards of deep red, most shimmery blue and weighty gold. We wove them all along the entire length of the North Park Seminary Chapel, and over the altar where names of the most recent to join Christ were added to the scroll. It was God gifting us with a struggle to bring forth an All Saints Day Celebration in the company of the entire scroll biblical witness and the largest portion of the Cloud of Witnesses we could gather by name representing many tribes, tongues, people groups and the full representation of gender. On that Thursday morning, for that little while, heaven and earth were joined as we sang and ate and drank and enjoyed the Beauty of God amongst us male and female alike. One man named Michael, who had the positional power to wield control and block participation, instead said, Yes! Be FREE! Lets share in what God is bringing as if we all matter equally.
And Michael, with the female pastor in training, served the bread and wine and we shared LIFE together in Christ, in wholeness, in God's goodness. In that day, we were all just beautiful humans, reconciled in communion, held by great ribbons of Beauty that was God amongst us. Hope restored in the living memory of a man named Michael, living beautifully into God.
And this is our journey in the Evangelical Covenant Church these many years and months and today. We must continue to suffer the struggle, to say and receive the words BE FREE! In CHRIST! Let us BE FREE to live as a church that is gender bias, gender oppression, gender suppression FREE!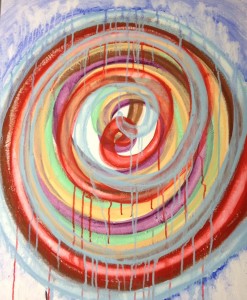 Beauty of difference,
Stained/covered with blood,
Consoling tears,
God.