Nilwona Nowlin currently serves as the Administrative Specialist for Governance for the ECC and is an active member of the Christian Community Development Association. In her "spare time," Nilwona teaches workshops about living successfully as an introvert. She also randomly blogs about random things at
thedreamerspeaks
.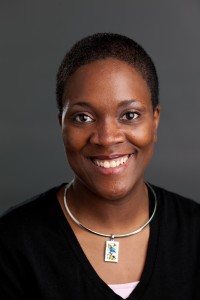 During my time in the dual degree program at North Park Theological Seminary, I also pursued a Certificate in Justice Ministry. At the same time, I was serving as an intern with North Park University's Urban Outreach program (facilitated by University Ministries) and participating in the CCDA Leadership Cohort program. All of these experiences allowed me many opportunities to engage in conversations about power and privilege. They also helped me to understand  that power has to be shared/redistributed in order for us to get close to seeing anything that even looks like justice. However, people who possess power are not always quick to share it or give it up. I have had many unfortunate encounters with people who have found my presence to be a threat to their power and privilege simply because of the color of my skin or my gender. Yet, I am also blessed to have experienced a great example of what it looks like for someone with power to share it in a way that was not paternalistic or patronizing.
At Midwinter 2014, I co-facilitated a roundtable discussion about engaging churches in ministries of compassion, mercy and justice – specifically how to move from compassion and mercy to justice. The truth of the matter is that my internship supervisor, the Urban Outreach director, was the actual facilitator. Rich was the one who had been asked to facilitate the discussion, and he was the one listed in the program book as the facilitator. However, he was willing to share this space and opportunity with me because he was familiar with my gifts, talents and skills – particularly in relation to the discussion topic.
When we started the planning process, Rich did not set his own agenda and expect me to get in where I fit in. From the beginning, he clarified that I would serve as the co-facilitator and that we would plan the presentation together. We worked together as equal partners as we planned and eventually as we engaged with the discussion participants. As I mentioned earlier, many who possess privilege and power are afraid to share it because they think that it will cause them to lose something. However, my story shows that loss doesn't have to be a concern. In fact, we always gain something when we allow other voices/perspectives at the table.
To my brothers in Christ, you are surrounded by women who are called and gifted to serve the kingdom of God. While you're in the process of evaluating 2014 and planning for 2015, I challenge you to commit to finding an opportunity to share your platform with one of these women. That may mean giving her the opportunity to lead solo or to co-lead – whether that's in a workshop format, preaching a sermon, writing an article or some other form. Those who accept this challenge have everything to gain and nothing to lose (except maybe a little pride).