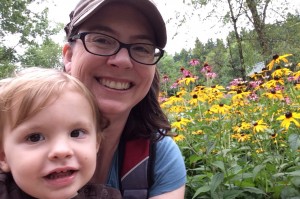 Jo Ann Deasy is a Covenant pastor who has served in a variety of ministerial roles including Youth Intern, Minister of Christian Education, Dean of Students, and Solo Pastor.  She is currently serving as Director, Institutional Initiatives and Student Research at the Association of Theological Schools in Pittsburgh.
How do I begin to write this blog post?  I'm afraid that after the first few words you'll stop reading, deem me a heretic, assume that I am just not biblically literate enough.  But here goes…  I don't feel the need to prove that women can be pastors to anyone who asks.  I probably could prove biblically that I believe women can be pastors, but it would take some work.  To be honest, my head isn't filled with those few passages that appear to deny women the right to preach and bear rule in the church.  I know roughly where they are.  I know their content.  I know the basic arguments located in each of them.  But I am not an expert on those passages.  I can't quote all the latest scholarship.  I don't spend hours studying them.  I don't have debates and positions memorized and ready to whip out on a moments notice to any stranger or student who challenges my role.  To be honest, I just don't have time for it.  There are so many other things to think about, to argue about, to be concerned about.
Please don't take this to mean that I don't care what the Bible says.  I care deeply about the scripture.  It is the only perfect rule for faith, doctrine, and conduct.  It is the authority that guides my life and my work.  I wouldn't be a woman pastor if I didn't feel it was biblical.  I struggled for many years with my call to ministry.  I came to faith in a fairly conservative church and went to a seminary that was deeply divided over the issue.  I spent the early years of my faith in communities that endlessly debated the role of women in the family, in society, in the church.  I spent my early years being presented with amazingly brilliant biblical scholars proving points that were in exact opposition to one another, not just about women, but about a myriad of topics.  How could I, as a relatively new Christian, ever hope to prove my own position when those I respected could not agree on anything?
But that was not my only reason for stepping out of the biblical debate.  Two more reasons emerged over my years in ministry.  First, I came to understand that often it didn't matter.  I could prove my point.  Make a solid case for women pastors.  And it wouldn't make any difference.  If someone was firm in their position, my arguments were not going to change their mind.  More importantly my arguments were not going to change their position.  We evangelicals often think that if we just prove things to people, make them believe the right things, then the right actions will follow.  But I found that was rarely the case.  People were often more convinced about women clergy by seeing effective women pastors than by biblical arguments.  And even when someone changed their view of women clergy on the basis of a scriptural argument, they often still remained quite entrenched in a patriarchal worldview that did not allow for the full flourishing of women.
And that leads me to my final reason for stepping out of the biblical debate about women clergy.  In order for women clergy to flourish in ministry, we need to talk about so much more than whether or not it is biblically possible.  We need to talk about issues of leadership and shared authority, about the abuse and sexualization of women, about the stained glass ceiling, about how our masculine images of God shape the self-images and projected images of women.  There is so much more to talk about and yet we never seem to get to it.  We have spent close to 40 years in our denomination debating women in ministry.  Could we just get passed it?  I am not even suggesting we all need to agree on the same position, though that would be nice.  But seriously, could we just deepen the discussion a little bit?  Would we all admit that there is so much more to consider if we ever want to fully live into the position of our denomination, a position that fully advocates for women in all roles of leadership in the church?
And so, I've made it my mission to focus on all that other stuff.  The history of women clergy, sociological studies of congregations, women's developmental theory, leadership theory, what it means for women to be created in the image of God.  I am grateful for those men and women who have spent their lives studying the scriptures around the issue of women clergy.  I just am not one of them.
For those women who are reading this post, if you are seeking biblical proof, I hope you'll head to the Commission for Biblical Gender Equality website and all the resources present there.  But I would ask you to consider why you are looking for such proof.  You don't need to become a biblical scholar to become a woman pastor…  at least not any more so than a male pastor.  And you don't need to learn the biblical arguments for women in ministry to make your case to anyone else.  Go to passages on women in ministry not to prepare for battle, but to listen to God.
You do not need to carry this debate alone.  This is a matter for the church, for denominations, for biblical scholars.  They have done the work.  They can carry the battle.  You simply must live into the call that God has placed on your life.