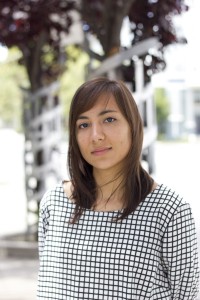 Danais is originally from Vieques, Puerto Rico. She currently studies Speech and Language Pathology at the graduate level. Her passions include linking the emerging research of the human microbiome and communicative disorders, as well as honoring God's perfect design through gardening, creation care, and a great appreciation for whole foods. She recharges by hugging and kissing her toddler, spending time with her husband, reading, dancing and watching series on Netflix
It has long been my contention that the Church is the only place that can simultaneously hurt me and heal me. As someone who grew up in Vieques Puerto Rico, I longed for the church to be a sanctuary, a safe haven where we could discuss and counteract the injustices my community witnessed: racism, classism, environmental exploitation and the confiscation of our land. All of these injustices resulted in many deaths, including two of my family members'. In my most vulnerable moments, I oftentimes find myself wondering if my being a female Puerto Rican hurt my chances of recruiting church allies for my family and homeland. What if I were a man? What if I were a United States American, as opposed to a Puerto Rican with U.S. citizenship? Would Christian, justice-oriented evangelicals, have been enamored with my male eloquence (what if I were eloquent?) in a way that mobilized them around these causes? Would my voice have been heard and respected in a way that would have prompted a great multitude to stand in solidarity with our brothers and sisters in Vieques?
It took me a long time to reconcile the fact that the same place that prevented me from standing up and raising my voice against oppression became the place that taught me how to boldly proclaim that we worship a God who hates injustice. However, the restoration that I found within the church, did not occur before the church broke me. I left, yet I found myself back in the one place where I later found genuine healing.
Being a grossly underrepresented minority female in the United States makes my ministry even more daunting. I am in the field of Speech Pathology with a heart and calling for special needs individuals, particularly the autistic community. Here I am, an underrepresented woman of color, called to a disregarded community that's commonly discriminated against, called to an undervalued and seemingly invisible ministry. With so many obstacles already confronting this particular community and myself, I ask God "why me?" Surely a white, heterosexual, able-bodied, ivy-league educated male would fare much better than me. They would have far more power and success standing up for such a stigmatized community.
The truth is that even in churches that affirm women in ministry, we are faced with individuals who, at their core, do not truly agree with such an affirmation. Additionally, a church's affirmation of women in ministry, although powerful in and of itself, does not undo generations of sexism within the Church, which countless Christians have consciously and unconsciously internalized (yes, women included). Because of the deplorable reality of the global Church's failure to heed God's call to support women in ministry, due in large part to poor hermeneutics, I must ask, what are women to do when we are called to unglamorous ministry? Here are three things that have helped me:
1. Women, stand strong in God's truth. Stand strong despite not being heard or taken seriously time after time due to your gender. As hard as it may be in the age of "likes" and "shares," our job is not to impress but to address. When times get weary, I rest in the truth that despite my mistakes and propensity to fall short, God chose me. I, as a woman, am indeed called by God! In order to heed God's call, I must pray daily for the strength to persevere, for the strength to surrender, and a posture of humility. By no means does this come easy to me, nor can I do it in my own strength. I try to stand strong by remembering that in the Kingdom of God, the lowly and meek in heart (male and female) are blessed.
2. Always remember Ezekiel 4:12. I don't know about you, but I forget how hard and "lackluster" my ministry is oftentimes perceived by others when I think about Ezekiel eating poop. Thank you, Lord, for not asking me to eat dung… IN PUBLIC! I do pray for Ezekiel's courage and obedience, but I have to be honest and admit that I am glad God hasn't come to me with such a request! (In other words, welcome laughter. May there always be laughter and joy for those of us called to arduous, exhausting and lonely ministry).
3. Draw from your past. I do not consider myself to be eloquent or witty; therefore, I do not have elaborate words to explain the pain and injustice I experienced in my home community in ways that have traditionally impressed, mobilized or encouraged others to trouble the waters. I still cannot fully make sense of my past, nor come up with a clever explanation as to why I was born in that particular place and time, nor why I am no longer there and find myself in the United States. However, I have to believe that I am all the more stronger because of it. So, draw from your past. Ask God to continue to overflow the strength of your past into the endurance of today.
The church is full of imperfect humans who fall short all the time (after all, I am part of it). So, once the church breaks you (and drives you mad–because it will), immerse yourself in the pain long enough for it to heal you. May you find joy, laughter, and excitement in the little things so that you find the energy to ask the Spirit to empower you to tackle the bigger things. Lastly, let us women never cease to confess our hurt and pain to each other, for if we forsake doing so, we might just miss God's mysterious power manifested in each one of our stories.