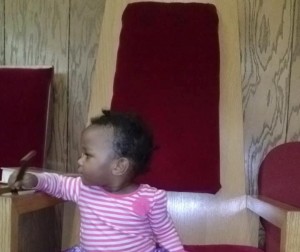 Nilwona Nowlin recently graduated from North Park University and Theological Seminary where she earned an MA in Christian Formation, a Masters in Nonprofit Administration and a Certificate in Justice Ministry. She currently serves as the Administrative Specialist for Governance for the ECC and is an active member of the Christian Community Development Association. In her "spare time," Nilwona teaches workshops about living successfully as an introvert. She also randomly blogs about random things at http://thedreamerspeaks.com/
I recognized and accepted a "general" call to ministry over 15 years ago. What I mean by a general call is that I came to understand that God was calling me to a lifetime of using my gifts and skills to build up the kingdom, whether that was as a volunteer or a paid staff person. Over the years, God has revealed more specific aspects of my call in bits in pieces. While I was in seminary, it became clear to me that God's call on my life would include preaching. For the most part, I accepted the other aspects of my call without much hesitation. However, accepting the call to preach was a longer process because, well, I was scared. Preaching requires one to proclaim God's Word with some sense of authority, and I was intimidated by that thought. In the end, my trust in God was bigger than my fear of preaching. My first sermon was a ten minute homily, preached in the seminary chapel to the rest of my preaching class. My preaching gift was affirmed, and I was able to breathe a sigh of relief – but not for long.
My second sermon was to be preached in my own context, and I chose to go back to the church of my childhood. My family still attends, and I am still considered a member of the church family. It was one thing to preach to my peers, who were in the same boat and offered up critiques with compassion and gentleness. It was a completely different thing to return home and preach, especially to a group that was much older – spiritually and physically. I was preaching from the Genesis text where Abraham goes up to sacrifice Isaac, and I had found out on a Tuesday that I was supposed to preach that Sunday. I had a long list of things to be anxious about; but again, my trust in God was bigger than my fear.
The sermon went well, and I was incredibly humbled by the feedback I received from some of the church's oldest members. However, there is one comment that caught me off guard, and it came from a woman who probably isn't much older than I am (I should mention that I'll be 40 this year). This church member, who I'll call Sister Johnson, said, "I really enjoyed your, uh . . . your . . ." My sister offered up the word "sermon," but Sis. Johnson still fumbled for a word choice. I think she settled on "word" or "speech," but she definitely did not say "sermon." Who knew that such a small word could have such a major impact on a person? It's just a word, right?? I had heard about similar experiences from other women who dared to answer God's call to preach, but I was surprised to hear it in this context.
Growing up in this church (which is not a Covenant congregation), I had seen women in the pulpit as evangelists and missionaries but also as preachers. In fact, for a significant portion of the church's history, a woman has served as the associate pastor. When the pastor announced that I was planning to seek ordination "to be a minister of the gospel," the congregation responded with verbal praise to God. My historical and recent experiences never caused me to feel like my gender would limit my ability to serve in ministry. Yet, Sis. Johnson struggled with being able to refer to my message from the pulpit as a sermon. I don't share this story to cast Sis. Johnson in a negative light. Instead it is to highlight the deeply pervasive nature of this negative view of women in ministry. This is basically the gendered equivalent of internal racism. Sis. Johnson is a female Christian operating in a system that was not developed with the intent to empower her. Though voices are beginning to push back against this system, the damage has already been done. She came to the church as an adult, so I can only assume that somewhere else in her life, she encountered negative messages about women in ministry. I know that I sure did! Not only can this skewed understanding of women in ministry cause us to struggle with our own call, it can cause us to not affirm the call of other women.
But praise God for the good news! In this case, the good news is that – despite whatever hang-ups she has about women as "preachers" – Sis. Johnson still thought that I had brought a good word. I don't say this to pat myself on the back but to remind us that the Spirit of God is always at work, even in the midst of oppression and opposition. This reminds me of how much I valued being able to encounter the preaching gift of other women who were actively defying the limitations put upon them by the system. It is a reminder to me that, regardless of the opposition I will face in ministry and life (not only as a woman but also as a black person), I am still called and gifted by God. And it is a reminder that I must be obedient to God's call. As I act in obedience and operate in my gifts, God will do the much more difficult work of changing hearts and attitudes as it relates to women in ministry.