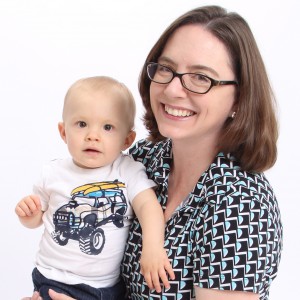 Jo Ann Deasy is an ordained pastor in the Evangelical Covenant Church and holds a Ph.D. from Garrett-Evangelical Theological Seminary in congregational studies.  For the last four years she served as the pastor of Sojourner Covenant Church in Evanston, IL and recently moved to the Pittsburgh area to serve as the Director of Institutional Initiatives and Student Research at the Association of Theological Schools.  When she is not working she spends most of her time with her two passions, her almost two-year old son Declan and photography.  Yes, she has a lot of photos of Declan!
I recently finished an article for an upcoming book that suggested that perhaps our emphasis on male images of God was hurting the potential of young women to develop a pastoral identity.  I wasn't challenging churches that clearly consider God more male than female, who refuse to use any feminine images for God, who believe that being male means you are a step closer to God and therefore allowed to serve as pastor.  I was talking about those of us who believe that women can serve as pastors, but still primarily use male language and images for God.  It is easy to do.  "Father" is, of course, a biblical title for the first person of the trinity.  And Jesus was a man.  Literally.  Not just human, but God incarnate in male form.  And trying to use gender neutral language for God can be some cumbersome when you are first learning how.  You end up repeating the words "God" and "God's self" a lot.
I spent weeks agonizing over the article.  Not because I couldn't make my case.  I had done a lot of research on the matter.  Interviewed young women who were so gifted and talented, but couldn't fathom becoming pastors.  Not because they didn't believe in themselves.  Well, actually they didn't believe in themselves, not any more.  Most of them had when they were younger, but then life got in the way.  And as they grew older, they couldn't imagine a life that wasn't structured around men taking care of them.  Even if men had never taken care of them, they still longed for a world where men took care of them, husbands, fathers, pastors, God.  And our consistent use of male language for God only furthered this idealized world.
I didn't agonize because I couldn't make my case.  I agonized because I was these women I was writing about.  I was so worried about offending all the men who had been my mentors and professors over the years.  They had been a mixed bag of support, advocacy, and opposition to women in ministry.  And I so wanted to please them all.  Like many of the young women I interviewed, I had often squelched my own voice, lost myself in a haze of anxiety and insecurity, as a way of avoiding contradicting those that had been so formative in my life, had done so much for me.  If you remain quiet, you can't be accused of being a trouble-maker, you can't be marginalized as an angry woman, you can avoid the arguments and questions about your intelligence and your faith.  Of course, if you remain quiet, you tend to also avoid living into the call that God has placed on your life, of speaking the truth that God has given you to share with the world around you.
Women have responded in all different ways to this dilemma.  Some, like myself and many others, have lost our voice, our courage, have forgotten that God created our minds and bodies, filled us with the Holy Spirit, and gave us truth to speak to the world.  You'll know us when we break out in tears or fits of laughter at inappropriate moments as the inner battle rages within us.  Others have learned to yell loudly, to make their voice heard, to speak up regularly.  At times they can't stop yelling, they have had to yell for so long.  When you speak loudly and no one seems to hear you, you begin to doubt whether people can hear you and at times whether or not you even exist.  After all, how can such a loud voice, such truth, such pain, be ignored by so many people?
Luckily there are many women who have negotiated this dilemma in a much healthier way.  They have learned to deepen their sense of self in relationship to God in such a way that they can speak forth all that God has given them without fear or anger.  They have had people around them who have consistently heard them, supported them, and believed that their voice was too important to be silenced or marginalized.  They have spoken their truth, lived their call, at times making waves and radically changing the world around them, at times simply being faithful disciples, witnesses to the world of God's call on the lives of women to lead and pastor and be representatives of God's kingdom in this world.
As you consider the women in your life, the quiet ones, the loud ones, the angry ones, the always happy ones, the ones living out their call with fear and trepidation, with brash courage, with faithfulness, remember that for many there is a battle raging around them and, at times, within them.  A patriarchal world, even with all the progress that has been made, can be full of landmines.  Be gracious.  Be vocal in your support.  Be demanding that they live out their call and share the voice that God has given them.  And use language for God that reminds us all that both men and women have been created in God's image.