Lisa Sundell Olsen has been a member of the BGE commission for 6 years. She is the senior high youth director at Covenant Church of Thomaston in Connecticut. Lisa and her husband, Reverend Timothy Olsen's daughter Maja, will be getting married next month. Their son John Alrik is in his last year at North Park University.
One year ago, on Easter Sunday, my dad announced to our family "What do you think of a trip to Israel this time next year?" Shouts of enthusiasm and a few questions followed. On May 15th, eleven of my family members boarded El Al flight 002 to Tel Aviv from JFK. We spent 10 full days traveling, learning, seeing, hearing and tasting our way through The Holy Land.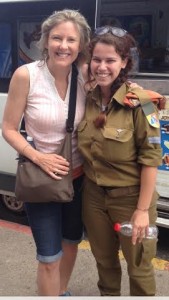 We learned as much about the history, culture and politics as we did about the sites Jesus walked. Our guide, named Beja, told us a lot about the Israeli army and it's people. We met many of them since they are everywhere. When we got to Haifa, Beja introduced us to a some women who were in the special forces of search and rescue. He went on and on about how difficult it is for anyone to achieve membership in this unit because of the sheer physical strength needed. I was so proud of these women and got my picture taken with one of them. Every 18 year old woman and man, if they are a citizen of Israel, joins the army for 3 years.
This equal treatment of men and women made me wonder about clergy. So I did some research. The first female rabbi was ordained on December 25, 1935. Her name was Regina Jonas of E. Berlin to serve in Jewish communities in Germany. In the US, the Reform movement ordained the first female rabbi in 1972. The Reconstructionist movement ordained women in 1974 and the Conservative movement in 1985. The Conservative movement of Judaism formed The Commission for Study of Ordination of Women as Rabbi's in 1977 (I like our commission's name better) and in 1978 all eleven members agreed that "there is no direct objection to the acts of training and ordaining a woman to be a rabbi, preacher and teacher". But the issue was shelved until 1983 when they finally brought it up again. Even the Orthodox movement has some women rabbi's, but it's not widespread.
So why am I writing about this? I have studied the Old Testament for many of my 49 years and in some ways it's patriarchal and in other ways it's inclusive of women. I didn't know what to expect in modern day Israel. I was thrilled to see that women are embraced equally in mainline society…however most of the Orthodox Jews kept their distance from women as seen by the divider at the wailing wall…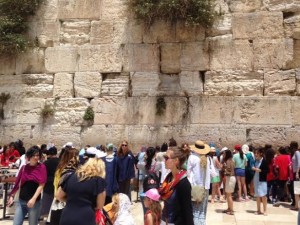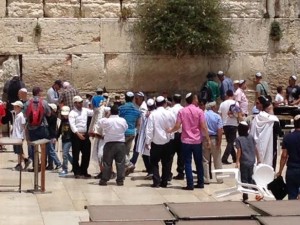 The Evangelical Covenant Church began ordaining women in 1976. I wish they could have been ordained when women went off to the mission field devoting their lives decades and decades before. We were 4 years later than the Jewish Reform movement and 2 years later than the Reconstructionist. We were only 9 years sooner than the Jewish conservative movement to ordain women who were called into ministry. Rabbi Yosef Kanefsky said "the stupidest thing the Orthodox community does now is not having women rabbi's. It wastes intellectual and spiritual talent". My prayer for each one of our denomination's churches in the Evangelical Covenant Church is that we fully embrace the equality of women in every level of ministry.
Search Committees: Please look at every and all profiles the superintendents send you for ministry positions.