Written by Cindy Wu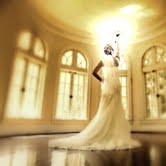 I started dreaming about my wedding day long before I was even interested in boys. As a little girl, I started imagining my wedding dress, picking out my wedding ring, choosing my bridesmaids, and planning the ceremony. As I grew older and started attending friends' weddings, I made mental edits: change the entrance song, hire a live band instead of a DJ, cross Susie off the bridesmaids list.
By the time my actual wedding day arrived, none of my choices matched my childhood designs but by then it didn't matter—part of the fun was in the dreaming. Dreaming about one's wedding day is a natural inclination. A wedding is a sacred day, the beginning of a new journey, and worthy of great attention. However, it is easy for the wedding event to get blown out of proportion, especially with the commercialization of weddings by the modern wedding industry. It is tempting to become all-consumed with making sure we have the right kind of flower, right kind of cake, highest-quality…whatever. What is really harmful, though, is when before our wedding day, we start placing our value as a woman in the goal of becoming a wedding bride. It is a deception when we feel we are not loveable or beautiful unless someone asks us to marry him and all we focus on is getting to have that longed for wedding day. Marriage becomes the highest validation of our desirability or worth.
God has something to say about brides and weddings. The Bible tells us that Jesus himself is our Bridegroom and the Church is his Bride! Jesus is coming back someday, and his return is compared with a wedding banquet: "Let us rejoice and be glad and give him glory! For the wedding of the Lamb has come, and his bride has made herself ready" (Rev. 19:7). Someday, Jesus will return to consummate the Kingdom of God on earth, and on that day, God himself will prepare the Church to be a beautiful bride (Rev. 21:2). God's love and admiration for his bride is everlasting; it never wanes or disappears (Hos. 2:14-16, 19-20).
The little girl who plans all those years for her wedding is often faced with the harsh reality that some never marry, or marriage is harder than imagined. You may have just broken up with your boyfriend and are struggling with loneliness. Your marriage may be treading rocky ground, and you are struggling to stay committed. Statistically, most married women will outlive their husbands, and some may even be widowed at a young age. In our singleness or in our hurting marriages it is difficult to feel beloved and beautiful, but the Bible tells us we are because God is working in us to make us so. He promises to adorn us with robes of righteousness, more beautiful and more pure than the world's most exquisite wedding dress (Isa. 61:10).
Let us set our eyes even higher and anticipate the final wedding banquet that awaits all of us. Before we are wedding brides, we are the Bride of Christ.