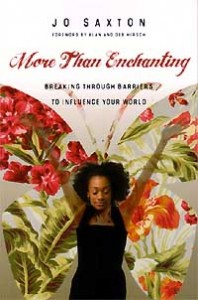 "More than Enchanting" by the British author Jo Saxton celebrates the roles that women have played in leadership since the very beginning – and calls on women to discover (or re-discover) their gifts for leadership and put them into action for God's kingdom here on earth.
Aimed particularly at women, this book offers a great deal of wisdom and thought about the expectations and challenges of leadership – particularly within the church –  from a woman's perspective. It manages to present a good mixture of both biblical and contemporary examples of women's leadership, and includes contributions and reflections from a wide range of women. Challenging the reader to engage with the material, each chapter ends with some questions for reflection – as a group or individually – which invite the reader to consider their situation and the opportunities and questions they might have, as they seek to step out further in leadership in the church.
This is an encouraging and enjoyable book, which would particularly make a great gift for young women and students stepping out in leadership in the church.
Book review by Alice Hague.
More than Enchanting is available from bookstores such as Powell's Books and Amazon.