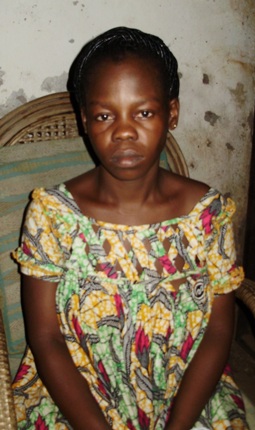 I should have a better picture of Patience.  Because the second time she visited me she looked SO much better, happier, joyful!  And there's even more reason for joy in her life.  She is completely trusting God… who is completely trustworthy.
God is doing amazing things in the lives of the women who come to visit me.  Patience was just encouraged to have found me, a sympathetic ear and shoulder to cry on in her crisis.  But God is bringing more new friends around her.  On her 2nd visit to our house, Patience told me that going back to her village is not going to be easy… she's from Congo!  "Aha!"  I thought, "She needs to meet Ruth & Gabrielle."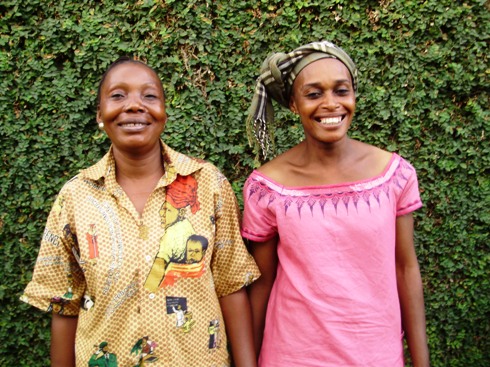 So a few days later Gabrielle called me.  She had medical needs and wanted to see me.  So she and Ruth came the next day.  We had a great visit.  I found out more about their lives.  Gabrielle still suffers physical effects from having been beaten and raped in the war in Congo (around 1997 or 98).  So she's seeing a doctor about nerve issues in her head and face.  We prayed and I offered a little money.
Then Ruth talked about wanting to get into micro-enterprise.  It's not the word she used, but the idea is that they would like to teach people how to tie-dye cloth for selling and making things.  But they don't have the materials.  The told me they don't want a fish, they want to be taught to fish!  Pray as we consider an organization the Covenant should partner with here in Cameroon and what type of compassion ministries the Lord is leading us to pursue here.
Finally I told Gabrielle and Ruth about Patience – how she was abandoned by her live-in boyfriend; how she's here from Congo and basically homeless, having a temporary place to stay.  And Gabrielle said, "Nous ne pouvons pas l'abandonner!"  We can not abandon her!   Gabrielle gave me permission to give her phone number to Patience so they can make contact.
Two days later, Patience came over.  I told her about Gabrielle and Ruth.  I called Gabrielle on my phone (thankfully she answered – which means her cell phone was charged and turned on!) and handed the phone to Patience.  They began right away conversing in Lingala!  Patience was SO encouraged to know another Congolese woman in this big city.  They made plans to meet the next day.
So the next evening Gabrielle called me again.  She had met Patience, and had gone to visit the house where she is staying.  And she was able to verify Patience's story for me.  The home she's staying in is owned by a woman who has several children — no husband to be seen.  There is a teenaged girl who can neither hear nor speak.  She may have other mental challenges, or maybe just has never been taught.  She can do practically nothing for herself, and is locked inside the house all day while others are at school and work.  There are younger children who attend school.  And the woman of the house goes to market all day every day where she grinds peanuts for a living.  Barely able to support her own children, she is not sure how long she can allow Patience to live with her.  Wouldn't it be wonderful if one day Patience were able to help contribute to that family? 
So, Patience is encouraged to have new friends – just to have someone to go visit, other women to talk to!  And Gabrielle and Ruth are encouraged that, poor as they are, they can be used by God to encourage another in greater need than they.  I must admit, when I met Patience I was skeptical – who told her where I live?  How did she know ours is a "Congo friendly" house?  Is this a scam?  But she told me that the first day she came to our house she had prayed, had gone to many houses, and ours just looked like a door she should knock on – "like God led her to us" she said. 
Psalm 40
Patience's Psalm
 1 I waited patiently for the LORD;
   he turned to me and heard my cry.
2 He lifted me out of the slimy pit,
   out of the mud and mire;
he set my feet on a rock
   and gave me a firm place to stand.
3 He put a new song in my mouth,
   a hymn of praise to our God.
Many will see and fear the LORD
   and put their trust in him.
 11 Do not withhold your mercy from me, LORD;
   may your love and faithfulness always protect me.
12 For troubles without number surround me;
   my sins have overtaken me, and I cannot see.
They are more than the hairs of my head,
   and my heart fails within me.
13 Be pleased to save me, LORD;
   come quickly, LORD, to help me.
17 But as for me, I am poor and needy;
   may the Lord think of me.
You are my help and my deliverer;
   you are my God, do not delay.
P.S.  You won't believe this — as I finished typing the above the doorbell rang.  It was Gabrielle and Ruth.  We talked for over 2 hours.  I told them what I wrote here; I read Psalm 40 to them and they agreed it is Patience's Psalm.  We talked about so many things and mostly they gave glory to God who is their strength and salvation.
And March 8 is the International Womens Day.  They have quite a celebration planned for the 4 of us (Ruth, Gabrielle, Patience and me) – 4 foreign sisters in Christ who find ourselves in Cameroon.  Should be fun.