"It's all here and ready to pick up!"  we were told.  The stuff we had shipped by container through the Baptist mission last summer had finally cleared customs and was available to bring home.  But it's at a Baptist mission station on the other side of Douala  — a few hours' drive.  So Ron made a plan to drive over on a national holiday (a little over a week ago) and back the next to pick up the boxes that we, Norens and Baptist missionary, Kristy who teaches at RFIS, had shipped on the container.
But Ron had been busy at work and hadn't really thought through the details and logistics of the trip.  Thankfully God is in the details.  We got an email from a missionary currently living in the US who wanted his vehicle moved from that mission station near Douala to Yaounde, would Ron be able to drive it?  Yes!  In fact, Ron needed the space IN that vehicle to put all the Noren's, Z's and Kristy's boxes and trunks that had come on the container.
The first day of the trip was a holiday, so traffic was not bad at all; and Nathan was free, so he went along to help.  They were able to load all the stuff the first afternoon, stay over night at the mission, and headed back the 2nd day.  Unfortunately, Nathan had been stung by something causing his leg to swell up and rendering him unable to help… somehow I don't think he was disapopinted, just in a lot of pain!
On the way back they made a stop at a restaurant just to check out the menu and prices for future reference.  As they pulled out of the parking lot Ron noticed a flat tire on our van.  As he removed the tire, a man came up to him saying he's the parking guard and offered to take the tire to have it repaired saying, "the guy who does tire repair will give you a hard time.  I'll take it for you."  A little later they were on their way again, thankful for the help and that the flat hadn't happened in a more remote area.  Again, God had taken care of the details.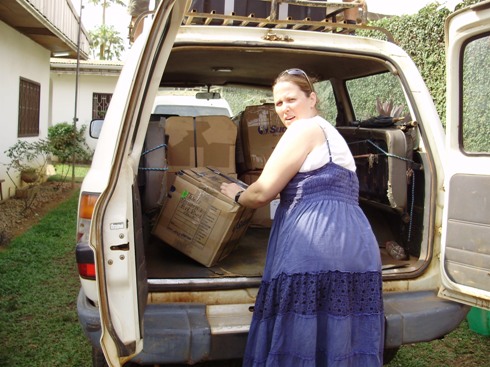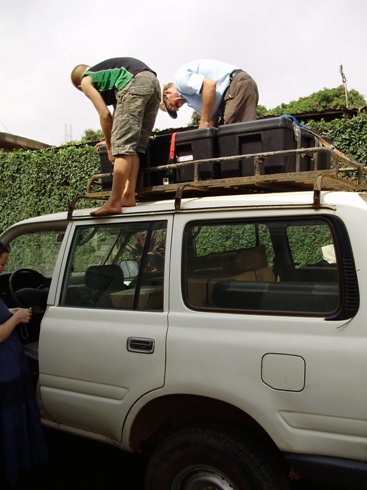 And we have enjoyed opening the boxes of stuff we sent to ourselves!  It's like Christmas all over again – clothes, fun foods, tools, and lots of books that were too heavy to bring on the plane when we first arrived.