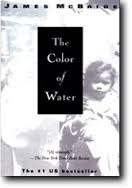 The Color of Water by James McBride
The current read for Moody Book Club spent two years on the New York Times Bestseller List.  A true story (at least from what I can tell), The Color of Water is about the author growing up with a white, Jewish mother with 11 siblings.  In the mid-1930s, Rachel Shilsky (who later changed her name to Ruth) was sneaking around with black friends in the south, risking her life and theirs.  As she grew up, she dated black boys and then men (in secret) and eventually, married James' father, Dennis.  She had eight children with him and then he passed away. She married another black man later and had four children with him.  Beautifully written, this story forces the reader to face the cruel reality of racial dissonance in Virginia in the 40s and 50s.  Written from two perspectives (the son's and his mother's), the reader can hear the different generations speaking and follow the emotions of both main characters: the mother, who grew up with a handicapped mother and Rabbi father, never fitting in in a white world and the son, working through questions of race, identity, class, societal expectations as he uncovers his Jewish and African-American roots. The highlight for me is following a boy's journey from boyhood to manhood, through drug use and underachieving, to finding himself, his passion for music and the painful as well as redeemable truth of his family.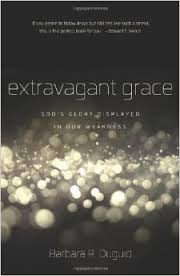 Extravagant Grace: God's Glory Displayed in Our Weakness by Barbara Duguid
How many Christian books have you read about how to be holy, how to follow a 10-step approach to dealing with your sin, how to become more like Christ and less like yourself?  This book has a refreshing approach that is exactly the opposite.  The premise of the book is that God didn't create us to be perfect like Christ… if God wanted to take our sin completely away, God would have done that.  Instead, the author suggests that maybe as we learn to embrace our imperfections and become more honest, our healing with come through our honesty and ultimately, others will see Jesus not in our holiness, but in our weakness.  If you're the type of person who is constantly trying to win God's approval and want a HUGE break from that, this book is for you.
A quote from a section about the lies that can be found in Disney-like Christianity:
Christian Make-Believe
However, when the Disney message is loudly proclaimed from the pulpits of well-meaning.  Bible-believing churches, it is devastating to God's people.  It tells us that if we just have enough faith, we can do or be anything we want to.  We may not succumb to the crassest form of this belief that infects many churches, the form that teaches that our faith can make us healthy and wealthy.  Yet we often buy into a more subtle form of the same malady.  We really believe that if we have enough faith and try really , really hard that we an stop sinning and be just like Jesus.  We are taught that it is within our power to allow or inhibit God's work of sanctification in our lives, so that our progress in perusal holiness is up to us.  If we try harder and cooperate with God, we can succeed and achieve virtual perfection, becoming spiritual princes and princesses.  If we choose not to be fully committed to God, however, he is powerless to change us and can't possibly bless us as he longs to do.  (p 78)
Johnna