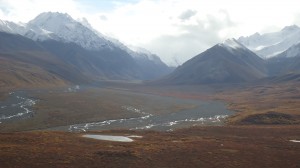 Fábio, Sophia and I were in Alaska…  not just for vacation, but we also had the chance to explore some of the Covenant ministries up there.  We went to First Covenant on Sunday and saw Max Lopez-Cepero and Helen Cepero.  We saw Phil and Kate Cannon and their 4 kids and Jamie and Levi Rose.  It was great to see people I remember from seminary days!!
Next, we went to Alaska Christian College and spent some time with Keith Hamilton getting a tour and hearing how the vision for a college in Alaska that could reach out to natives was finally realized.
And finally, we went to see Heather McMillan in Anchorage.  We were going to have pizza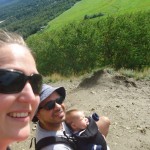 with her, but then realized we were at the part of the restaurant that doesn't serve pizza!  We chatted with her about call and mission over salmon Mediterranean style and a big, juicy burger.
On our way back to Florida, we stopped in Seattle where we spent some time with my sister and my niece and nephew. Also, we met Carolyn Poterek and her four nieces at Green Lake Park.
What a great adventure and journey with our little bear, Sophia. We are glad to take our first steps and begin contacting our friends and family in order to move forward and make our mission and life in Japan a reality.
Johnna