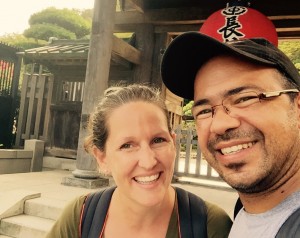 We've been here a little over a month. We are beginning to build a foundation of relationships and language. Now is the time to remind ourselves and everyone reading this what we hope to accomplish together in the next 2-3 years. We are here because you sent us. We are able to do what we do because we have a gracious God who has been building bridges between you and us over the last two years, and is now building bridges between us, our Covenant colleagues, and the various residents of Japan with whom we cross paths.
Our Mission: To be kakehashi 架け橋 [かけはし] in Japan between Brazilians, Latinos, Japanese and other internationals in practical ways to share and experience the unchanging, unconditional, transformational love of Christ.
You would not believe the day we had today! We went to see some famous places not far from our home and had the chance to speak with people from Japan, Italy, Spain, Nepal, and Mexico. Fabio got to speak Japanese, Italian, Spanish and English. Johnna had the chance to speak Japanese, English, Spanish, and the one word she knows in each of the following languages: Korean, Chinese and Nepali.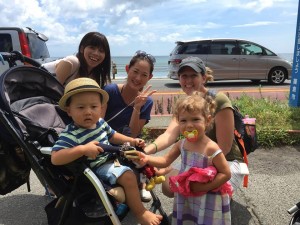 The best part was we ran into a woman and her son that she knows from morning play group. We are finding out that the world is very small in Japan as we have been discovering incredible connections between people we know who know people we know. We do not believe this is merely coincidence. It is such an often occurrence that we are beginning to sense that God is up to something. One of the latest of these was finding out that Pastor Matsumoto, the pastor at the Japanese church that hosts the Brazilian church we attend teaches classes at the Covenant seminary in Meguro, Tokyo.
Two of our colleagues teach classes there and many of our Japanese colleagues graduated from there. (Johnna actually stayed at an apartment connected to that same seminary while she was studying Japanese for the first time 16 years ago).
Eugene Peterson wrote: "Jesus is eternally and tirelessly bringing everything and everyone together." This is what we're talking about. This is what our Japanese classes and upcoming Portuguese immersion are for. We want to be part of this bridge-building in Japan and are grateful for your partnership along the way.
CULTURAL ADJUSTMENT: We are excited to be here and are enjoying the "detective" part about living overseas. Each day is a puzzle in trying to figure out what signs say, what people are doing, where they are going, which garbage needs to go in which bag on which day, if we should keep our shoes on or not, which button on the toilet is "bidet" and which is "flush", what people mean when they say certain things, and whether what we are about to eat is fermented beans, octopus or fish eggs.
RECENT EXPERIENCES:
Akagi Bible Camp – Click here to watch our video.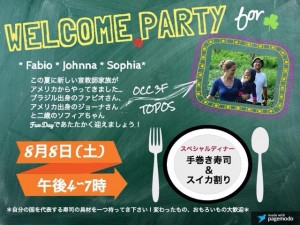 Odawara Christian Center "Fun Day" – We had the chance to share several songs and our stories with Paula-sensei and the youth she leads. It was also a welcome party for us – we enjoyed every minute!
Daily Japanese studies – We are "trying our best" (ganbatte imasu, がんばっています) at studying Japanese every day even though our school is closed until August 24 for summer break.
Neighbors – Just the other day, Johnna prayed that we would get to know our downstairs neighbors better. They have a 3-year-old girl who greeted Sophia with a lot of smiles the first time we met her. That same evening, guess who was outside when we got home? Johnna stayed to talk to them and found out the mother is a swimming instructor for kids and she'd like to give Sophia classes for free. We hope to see them more in the future.
Switching to Mail Chimp – We are switching to a much more cost effective (i.e. free) mass email company. Currently, you receive emails through Constant Contact, but starting next month, you'll receive emails via Mail Chimp. You may be asked to verify that it is okay to receive our emails as you probably had to do with Constant Contact. Sorry for any inconvenience – we hope the impact is minimal.
We are GRATEFUL for:
– Pauline and Gary Carlson, our colleagues, who have gone overboard in welcoming us and helping us get set up with housing, furniture, phones, internet, and more.
– You, our friends and family, who are making this journey possible. You are in our hearts and prayers and we look forward to connecting with you via Facebook, Skype, LINE app, What's Up, and email. We are 7 hours ahead of Paris, 12 hours ahead of Sao Paulo, 13 hours ahead of New York.
– Japan and its residents! We are impressed with this culture every day. Self-discipline, cleanliness, public transportation, recycling, organization (we lost one of Sophia's shoes in between the train and the platform and four days later, the workers were able to find it! A little oily, but nothing a little soap and water couldn't handle), hospitality, kindness (holding elevator doors open for us), patience, technology and safety to name a few. We know we are in the honeymoon stage of cross-cultural living, but really appreciate these traits coming from other cultures.
CALENDAR – PLEASE PRAY:
Aug 11 – Johnna helped plan a group karaoke outing with some moms and kids from her play group. They're booking a "family room" and will eat lunch and let their kids play.
Aug 12 – Johnna has an appointment with a Japanese friend from her morning play group to introduce her to her friend who wants to speak English. They both have kids around the same age as Sophia.
Aug 13-15 – All Japan Annual King's Kids Camp in Shizuoka prefecture (sponsored and attended by Brazilian-Japanese kids and parents; there will be about 150 people). We are really excited for this opportunity to hang out with a large group of Brazilian-Japanese people. Johnna will get some Portuguese immersion which will be helpful since now that she's studying Japanese intensively, it's harder to speak Portuguese without Japanese words coming to mind. We will also get time with Elisa, Fabio's former youth group leader whom Fabio has not seen for 25 years!
Aug 16-18 – From camp, we will join Elisa as she goes back to her home in Nagoya prefecture. There, we will be introduced to Elisa's Japanese and Brazilian-Japanese connections and have the chance to share a bit of our story with them.
Aug 19 – Fabio plans to meet with two Brazilians; one has a vibrant hip hop dance ministry and the other is involved in a ministry in English, Japanese and Portuguese. In both cases, the stories for how we got connected to them are just amazing and involve several people from different countries such as Brazil, Canada, New Zealand, Johnna's uncle in France to people in various cities in Japan (including our new colleagues) telling
us simultaneously that we should meet them!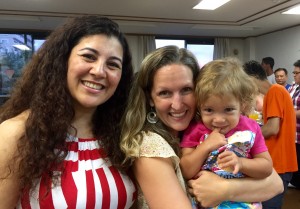 Aug 23 – An annual joint worship service that unites three churches (one Japanese, one Brazilian-Japanese, and one Latino-Japanese). There will be about 300 people, a Brazilian barbecue with Japanese yakisoba (fried noodles) followed by a soccer tournament between the three communities with a trophy for whoever wins. As mentioned above, this is the Japanese church where the pastor is a professor at the Covenant Seminary in Meguro, Tokyo.
Aug 24 – Fabio and Johnna will resume their full-time Japanese study with Fabio in the morning and Johnna in the afternoon. Fabio plans to continue until December, but Johnna is looking for a less-intensive option beginning sometime in September to free her up for other activities.
We are not yet 100% funded for our initial two-year commitment. Please click here if you would like to join as a financial partner:
Arigatou gozaimasu,
ありがとうございます
Fabio, Johnna and Sophia
Fujisawa, Japan