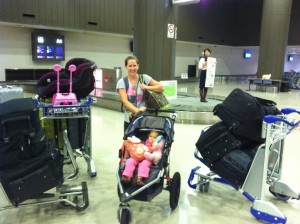 SETTLING IN: 
When we landed at the airport in Japan, we received resident cards which have helped us secure an apartment and language classes.  Filling the apartment with furniture is taking time due to a full schedule with language study, but it won't be long now since it is less than 56 square meters.  We have been sleeping Japanese-style with three futons on the floor, all in the same room. We hope to find a bed for Sophia and will move her to her own room once we have the air conditioning unit installed next week. Bed time and nap time routines have been completely uprooted, so we are looking forward to the novelty wearing off for Sophia and miss the days when we could just set her in her crib at 7:30pm, leave the room, and she would fall asleep. We are slowly finding a new rhythm.
MEETING PEOPLE: 
While on our way to visit the Brazilian church, we met a very sweet couple from Peru.  We have their information and hope to get together with them once we have our cell phones set up.
Because we are often the only foreign-looking people on elevators, trains and buses, we are often greeted in English by people who want to practice.  Sophia also draws a lot of attention from women and older people wherever she goes.
Fabio met with a man named Fukuda-sensei, one of the leaders of the house church movement in Japan.  He was introduced to him over email through a mutual friend.  After posting a picture on Facebook, we found out that a few of our colleagues in Chicago and Seattle know him from conferences and other events.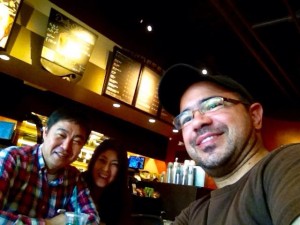 Fabio had a chance to have coffee with the team at the Japanese-Brazilian Church, Pastor Luis and his wife, Tani.  We were introduced to them through a pastor in Boston and then found out they also know someone we know in California.
So far, we have visited two Covenant churches and plan to visit a few more before discerning which one to attend regularly.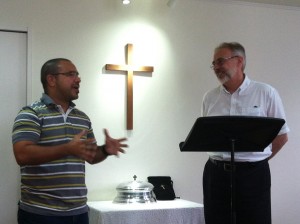 In August, we will participate in a retreat with a Brazilian church.  Fabio's Sunday School teacher from when he was about 12 years old is helping to organize the whole event.  He hasn't seen her in over 20 years, so we are really excited to be with her.

HOW WE SPEND OUR DAYS: 
We began intensive language study on Monday, July 13. Fabio goes from 9am-12:30pm and Johnna goes from 1-4:30pm, Monday through Friday.  We take turns watching Sophia and have the 30 minutes in between to do the "hand off" at the station in Yokohama that is near the language school.
Johnna takes Sophia and goes to the Bunka Center (Cultural Center) near Shonandai station (one station over from our station) every day to play with parents and kids in a room set up for children from birth to 3 years.
This is great for her Japanese, very fun for Sophia to meet other children, and the other parents seem to be enjoying trying out whatever English words they remember from studying English in school.  Today a small group of older women came and sang a few kids' songs with one playing keyboard. There might be opportunities in the future for Johnna to lead a short English lesson for the kids with songs and games.
CALENDAR

July 19 – Visit to Sakawa Church. Paula-sensei is in charge of the youth there and holds activities with them at Odawara Christian Center

July 20 – Holiday in Japan (Umi no hi = Sea Day); Retreat with Shonan Community Church and Sakawa Church.  About 30 adults plus children will be gathering for games and worship.  We have been invited to share some music with them.
July 24-25 – English Camp at Mount Akagi Bible Camp (ABC)
August 8 – We will be speaking at "Fun Day" at Odawara Christian Center (OCC) with the youth that Paula-sensei works with.
August 1-23 – Our language school is closed during these days, so we are looking for a private tutor for a couple days a week.  We will continue unpacking, learning how to grocery shop, cook, help Sophia find nearby parks, etc.
VIDEOS & PHOTOS
– For more stories and recent videos, go here.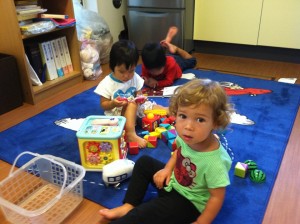 – For more pictures and to walk with us on this journey on a daily basis, click here to be our friend on Facebook.
Thank you for reading this and for supporting Project Japan,
Fabio, Johnna and Sophia
Fujisawa, Japan