Coincidence: chance happening: something that happens by chance in a surprising or remarkable way. 
"Coincidence is God's way of remaining anonymous." Albert Einstein
When we were at Annual Meeting/Gather in Chicago, we met Marge, a beautiful mature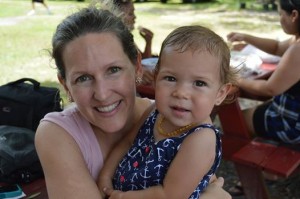 woman who looked very familiar to Johnna. That can happen with anyone, but Johnna also seemed familiar to Marge. We spoke with her and tried to find how we were connected, but could not find a common denominator. Later, we found out she spoke Spanish, so while in line for the breakfast buffet at the hotel, we spoke a few words of Spanish together. Something felt awfully familiar about her. We exchanged email addresses. Upon our return, we received an email from Marge giving us the information of her nephew who is living in Japan and has been there many years. We reached out to him and after a few weeks, received an email from Carl. As Johnna was reading it, she couldn't believe that is was the same Carl she had spoken to at retreats in Karuizawa, Japan 15 years ago!  Carl married a Japanese woman and still lives and works in Japan.
Honestly, we don't think Johnna and Marge had ever met before this June's meeting in Chicago. But, is it possible the familiarity was there for a reason – drawing us to one another, prompting us to become friends?! God seems to have a way of bringing people together. C.S. Lewis writes about how we think friendship is up to our "discriminating taste in finding one another out", but in reality, it's an instrument of God by which we can see the beauties of others. What if we looked at our connection to family, friends, neighbors and colleagues as more than just chance, pushing us to live more intentionally into the purpose of these relationships?
Dinner at Hiroko, Pedro and Mayaka's house  
Mayaka, the Japanese/Puerto Rican girl who is just 3 months older than Sophia, comes to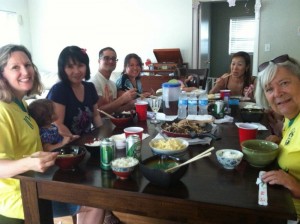 our house every day with Japanese books and Japanese food. Her parents invited us to her house recently and Mimi (Johnna's mom and full-time caregiver of Sophia and Mayaka), got to come, too. Hiroko invited some Japanese friends and their families and we had a great conversation about American and Japanese culture.
Fourth Friday
Every fourth Friday, we invite people into our home for food, music and conversation about faith. Last month was one of our biggest groups with wonderful diversity and a wealth of life experience. We look forward to these meetings every month where either Johnna or Fabio preaches and we have an interactive conversation about a topic we choose. The August meeting was about the parable of the tax collector and Pharisee's prayers. We were reminded to pray with sincerity and authenticity and that it's okay to voice all of our concerns to God, who knows them anyway. We were encouraged to throw off any masks we might have or tendencies for living a double-life, so we can be honest and open in our chats with our Creator. Click here to read more
Bon Secours Nursing Home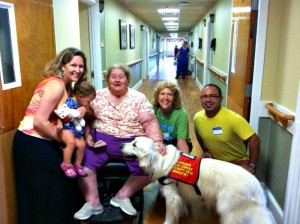 On Saturday, we joined our friend, Jane and her dog, Buddy (who is a trained therapy dog through the program called Canines for Christ) at a nursing home that is very close to our condo. Read the story here
Thai Market
On Sunday, we went with our Thai neighbor who is married to an American to the largest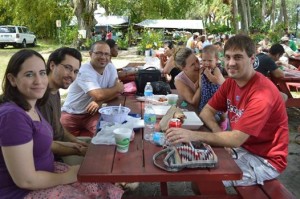 Thai market in the Tampa Bay area. They brought us there in part to meet a couple, Carly and Michael, who are very interested in going to Asia to volunteer and/or teach English. They were so excited to hear about our upcoming journey to Japan which we discussed over Thai Pho (Thai version of the well-known Vietnamese soup called "Pho"), fried sweet potatoes and bananas, sticky rice and Thai barbecue chicken. Sophia met other children, got to feed a bunch of catfish and enjoyed being outside.
Thank you for giving and praying!
We are grateful beyond words for all of the churches that have joined Project Japan in the last two months: Bayshore Baptist, Tampa, FL; Faith Covenant, St Pete, FL; Monte Mor Baptist Church, Brazil; Baptist Church of Bras, Brazil; Baptist Church of Brasilia, Brazil; Comunidade Cristã Vida Plena, Brazil; Arvada Covenant, Arvada, CO; Kent Covenant, Kent, WA; Bethany Covenant, North Miami, FL; Restoration Covenant, Apple Valley, MN; Floodgates Church, Tampa, FL. Look for your church's thank you video or see videos of Sophia and our family here.
We are also grateful for the many individual prayer and financial partners who are making this journey possible. One-time gifts help with set-up costs while monthly giving creates sustainability.
AGENDA
Sept 7 – Visiting Floodgates church in Tampa led by a couple from the U.S. and Paraguay in preparation for a concert later in the month
Sept 14 – Preaching at both services at Faith Cov in St Petersburg, FL
Sept 21 – Preaching at Lakeview in Tarpon Springs, FL
Sept 27 – Concert in our home for Floodgates Church
Sept 28 – Visiting Bridges Covenant in Tavares, FL (near Orlando)
GET INVOLVED:
If you're interested in giving to Project Japan, click here.
***Note: All gifts to our support account are tax-deductible. You will receive a receipt. If you are giving more than once, you can use the receipt as a reminder to give again.