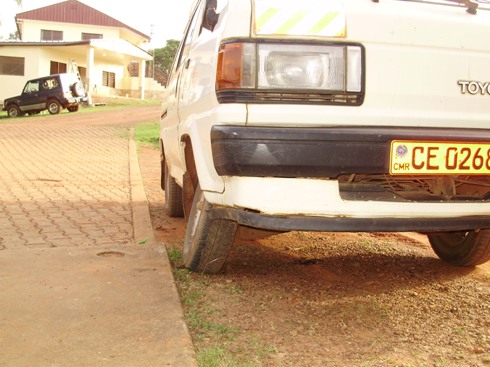 There had been clunking noise coming from the front wheel area for a while.  Ron, the mechanic, knew it needed to be taken in to the shop for work… one of these days.  He'd hoped it would at least hold out until Spring Break in just over a week.  But no.  Yesterday on the way home from church it made a particularly loud clunking noise and then a very bad scraping sound.  "Do you think it's a flat tire?" my mechanic husband asks me.  Was he really asking me or thinking outloud.  Well, I'm honored that he gave the impression of asking my opinion.  "No", I responded, "it sounds like something is dragging.  You need to pull over and look at it." 
So over we pulled, at the traffic light in front of the beer bottling company (they bottle pop – or soda, depending on where you're from) too, so that's ok.  Ron got out, looked under the van and came up saying, "Yup, it's the ________" I have no idea what part he said, but it's broken.  Thankfully he had his phone with him.  Made a call to fellow Covenant missionaries the Stokers to come to the rescue.  Meanwhile, Wycliffe missionary friends pulled up to the light.  Ron flagged them over and they took the kids home.  When Jeff Stoker arrived, he and I followed Ron, hobbling along slowly, flashers blinking, all the way to the nearest mission garage where it'll sit until it can be repaired.
Thankfully it hadn't broken on the long trip out to pick up our container stuff!  God is good and his timing is always perfect.