It's hard to believe that less than a year ago it was no more than a foundation in the dirt.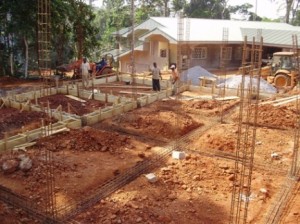 And in August 2012, the new hostel parents were settled in, and welcomed 12 residents. 
Four of the 12 are children of the hostel parents :o).  The parents of 3 of the resident students work in Gabon; the parents of 5 of the students serve in Central African Republic –one family in Bible translation, one family in medical / technical work and another in Pastoral training/church planting.