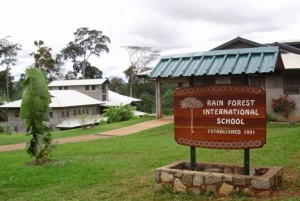 This year I have volunteered to take on a new position at Rain Forest International School.  Many of the teachers and administrators have left either because their term of service is completed or they need a year to connect with ministry partners in their passport countries.  So I am working part time as the Administrative Assistant.  As such I get to help make sure students will have enough credits for graduation, answer emails requesting transcripts, update student files, and anything many other things.
Unfortunately, just before August 8 which was the first day of school, I started having pain in my right leg.  It's back problems from a few years ago that have come back.  Thankfully, the Lord provided a physical therapist in town for a couple of weeks just when I needed her.  She worked with me several times before moving with her husband and 2 small children up to the Far North of Cameroon where they'll be serving in a hospital. 
But this goofy back of mine requires that I not sit… which is difficult when one has a desk job!  So, along with my new position at school, I also have a couple of new positions in my office!
Here's the first position — on my knees at the school computer in the Guidance Office.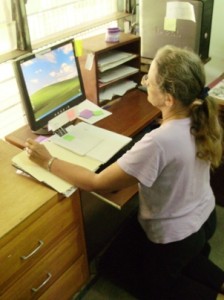 And when my knees get sore, I switch to my other position, on the floor on a mattress that Ron so kindly put in my officce.  On this personal computer I do my other part time job as Country Coordinator for the Covenant mission here in Cameroon!  By the way, this is exactly where I am right now as I type this blog post.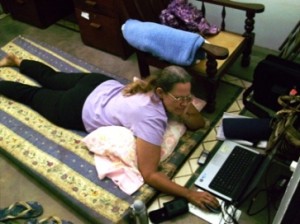 My office, equipped with a mattress is the envy of the other staff, but it can be discouraging to have to look always up.  Maybe that's the point.  From this place of pain, I do look up often in prayer for strength, grace, and healing.