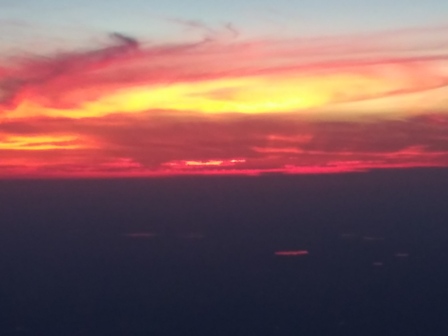 July 17 was the departure date in our calendars, hearts and minds for months!
It seems Delta had a surprise for us. Due to mechanical difficulties our flight out of Grand Rapids was delayed so long we knew we'd missed our flight from Detroit to Paris (2nd of 3 flights). Rather than to lug all the trunks back home to try again the next day, we decided to just get to Detroit. Thankfully Delta treated us to hotel and meal vouchers!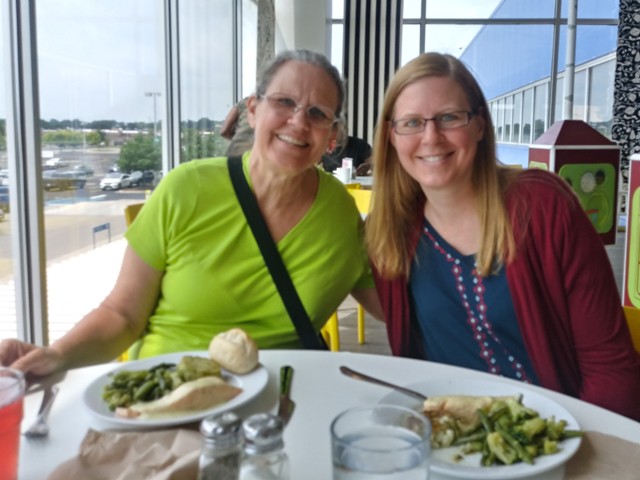 Being in Detroit unexpectedly gave us the chance to see Janet's niece one more time over lunch and a shopping trip to IKEA! Don't you love silver linings?
The rest of the trip went fine – note to self, though: if your rerouted itinerary has you in an airport more than 12 hours be sure to check on luggage. Even if someone tells you it's checked all the way through, you may find (as we did) that it's only been rerouted as far as the first leg of the trip! Thankfully we discovered this while still in Detroit or we'd have landed in Yaounde while our luggage sat in Detroit waiting for us to pick it up!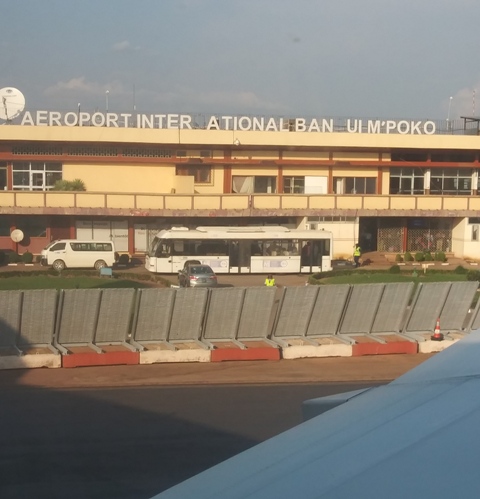 The rerouted itinerary had us pass through Bangui on the way from Paris to Yaounde. It's been about 20 years since I've landed at this airport – which used to be our port of entry to what was Zaire, south of CAR. We flew in and out of Bangui many times while serving in that country as well over the years. Ron passed through a few years ago when the grassy areas around the airstrip were filled with internally displaced people hoping for security at the airport. We continue to care for the people of CAR and (Zaire) D.R. Congo and pray for peaceful resolutions to conflicts that have caused so much chaos.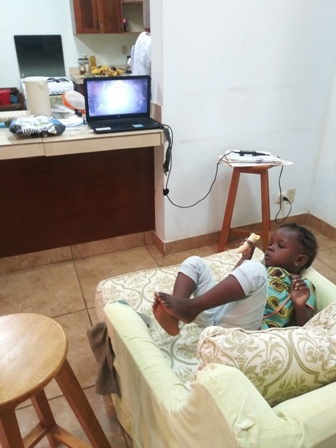 Arriving to our home in Yaounde means pulling clothes, books, office stuff, etc. out of storage, washing the dust and mold off everything. tons of loads of laundry, and sneezing like crazy! 🙂  Our littlist helper was more interested in eating bananas and watching her favorite movie, "Oliver!"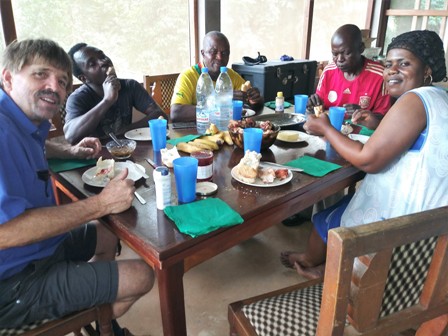 For the first week we did nothing but get settled in. Having lunch with our helpers everyday gave us a chance to catch up on life over the past year that we had been away.  The 2nd week we spent at school for staff orientation… but that's another blog post.