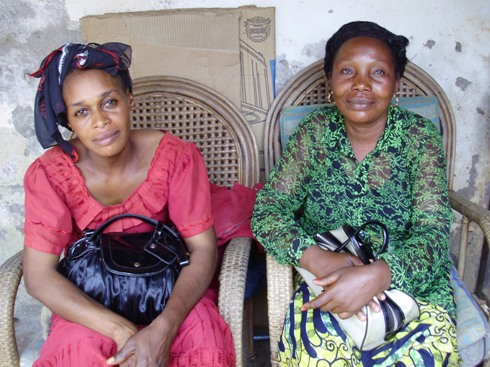 These two lovely ladies came to my door today.  They knew Cindy Ekstrand, Covenant missionary who used to live where we do now.  They brought a couple of big cooking pots to sell (I bought them), and said they also sell dyed cloth, table cloths etc. 
When I asked them how they'd met Cindy, they said they're originally from Gemena, Democratic Republic of Congo, where Cindy and her husband Pete lived and served with Covenant World Mission for many years (and are now serving there again!). 
When I asked how they came to live in Yaounde, they told me their husbands had been in former President Mobutu's army.  When war came to their country (formerly Zaire) in the 90s, they had to flee for their lives.  These beautiful women have grown to depend on God for EVERYTHING.  Ruth said, "If it weren't for God, I don't know what I would do."  I told them that because of that daily dependence on the Lord, they know great spiritual wealth unlike most people in the world who enjoy material wealth. 
Please pray for these women and their families.  Their husbands have not found work, so they do odd jobs and sell things in order to earn money for housing and to put their children through school.  Pray also that Cameroon will remain a peaceful country.  They fear that because of their husbands former positions in Congo, if they tried to return there, they'd be killed immediately.  After discussing the Presidential elections coming up here in October 2011 and the rarity in Africa of peaceful transfer of power, Gabrielle asked  "If war comes to Cameroon, where would we go?"  They've lived here since 2003 and the possibility of having to flee again is not a pleasant thought.
We had a very nice visit together, I prayed for them, and gave them some rice for their families.  They invited me to visit them at their homes.  After Christmas we plan to get together again.