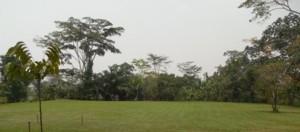 Rain Forest International School is built in the rain forest.  The beauty of it is having so many trees around.  The difficulty is also having so many trees.  As the city spreads and we see the forest disappear, replaced by concrete buildings, we are trying to maintain as much forest as possible on campus.  However, there is a need for electric power that sometimes comes into conflict with preservation of the forest.
Friday night it rained.  Wind blew.  We ran around the house in the middle of the night closing windows against the wind blowing rain inside.  The power went out.  A common enough occurrence in the rainy season.  In the early morning we heard a horrible awful noise outside — I thought I saw a flash of light and kiddingly said to Ron, "It sounded like the generator blew up!"  At about 6:15 the horrible noise happened again.  And 15 minutes later the guard at RFIS phoned Ron to let him know the power company has been unable to get power back on after the storm.  Time to investigate – the horrible noise was power trying unsuccessfully to come back.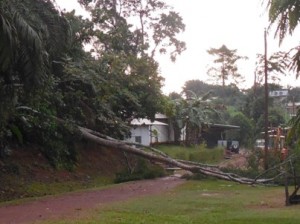 As we climbed the small hill from our house to the school, this is the sight we beheld.  A tree had fallen in the storm, right on top of the high tension power lines, bringing them to the ground, and tugging at the 2 poles on either side, but not damaging the pole it fell on.  There were even burn marks on the grass and plants where the wires had crossed.  It was the start of a very long day for Ron.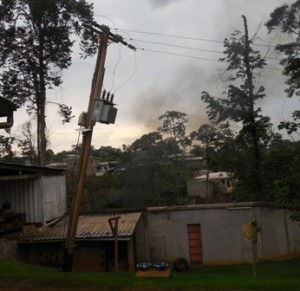 Before touching anything, he had a few phone calls to make.  The power company arrived to assess the scene.  They discussed options with Ron and Mr. Norbert from the school administration office.  Then they were able to give power back to the rest of the neighborhood, and Ron was free to start the clean up confident that the wires will stay "cold".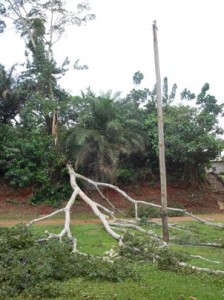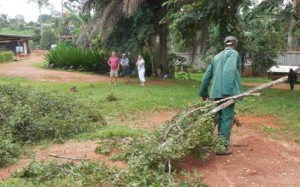 Maintenance guys clean up the debris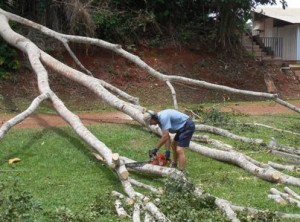 In case you were wondering, the power company gave 2 options for a solution before agreeing to plug us back in to city power.  We can either move the transformer closer to the main road and bury low tension wires under ground, or we can cut down any tree that could potentially hit the high tension wires before they re-install them.  So the questions is, at what price do we keep the forest?  What cost is acceptable for power?  The administrative team is gathering information now, to learn what is the most economical way in money and time, to preserve forest and still have sufficient power to run the school!  Pray for wisdom in the decision process.