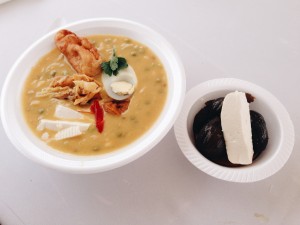 Around Holy Week in Ecuador you won't be able to miss the special dish, called Fanesca offered only during the days leading up to Easter and unique to this country. It is an elaborate, rich stew that is labor intensive and full of symbolism. Although there may be many variations of the recipe, Fanesca is always based around 12 grains representing the 12 disciples of Jesus. These grains, or legumes include: fava beans, lupine beans, corn, peas, rice, and peanuts, among the ones that I can't name in English! Of course all of the grains must be peeled/shelled and soaked/cooked separately. The other key ingredient is "bacalao" or, dried salt cod. This is representative of Jesus as well as some Catholics' commitment to not eat meat (only fish) during Lent. The cod must be soaked for a full day to rehydrate, and cooked in milk to add the unmistakeable "fishy" flavor to this stew. Finally, other key ingredients are pumpkin, squash, onions and lots and lots of milk. Some common Fanesca toppings are hard boiled egg, fried plantains, cheese, and little empanadas. It is customary to have as dessert the traditional sweet figs with fresh cheese.
We love living in Ecuador and being able to participate in these unique cultural traditions regularly!
Wishing you a blessed Holy Week and a happy Easter.
P.S. For those interested, there is an amusing New Yorker article from 2005 in which the author, Calvin Trillin describes his quest for Fanesca in Cuenca, Ecuador.