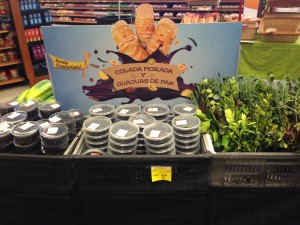 In North America it may be all-things-pumpkin season (maybe throw in some apples, too) but here in Ecuador it is time for "colada morada" and "guaguas de pan".
Grocery stores have started stocking all the necessary ingredients for making this seasonal beverage and snack. Timed to coincide with the "Dia de los Difuntos" (the syncretistic indigenous and Roman Catholic) holiday on November 2 where Ecuadorians go to the cemeteries to remember and honor their deceased loved ones, the month before is also acceptable to consume these treats.
Colada morada is a warm, thick beverage prepared with black corn flour, various fruits such as strawberries and Andean blueberries (mortino), and several herbs and spices such as lemongrass and Amazonian cinnamon (ishpingo), and cane sugar (panela). The color is a deep maroon/purple, hence the moniker "morada" which refers to the hue.
Guaguas de pan, translated literally as "bread children" (guaguas is a Kichwa word for children) are a pastry formed in a relative human shape and have a sweet filling such as jam or caramel sauce. The outside is decorated with colored icing to depict a face and designs on the body.
Although the origin stories of the "colada" and "pan" are both vague and varied, they have been traditional seasonal treats for many many generations. It is still not unusual for families to make them in the home, but it is also very common to find them ubiquitous in roadside restaurants and even packaged up in big chain stores these days. It is a custom not to be missed during this time in Ecuador!