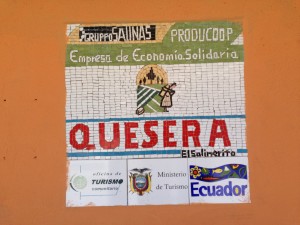 Friends, rejoice with us! It's not very often that plans come through so successfully as anticipated. Like we have mentioned before, it's much more common that plans change, and things fall through. That's why we are so thrilled that this latest "field trip" was so successful.
As we mentioned in our most recent blog post, Erik and I visited the town of Salinas de Guaranda last month and were so inspired by their story that we wanted to bring our friends from the Lote 3/ San Antonio dairy project to come and see it. After talking it over and getting approval from our partners in FACE and receiving a scholarship from Covenant World Relief, we made an open invitation to anyone from that project to return with us and have a great learning experience.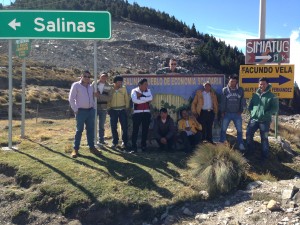 On August 16 we loaded up a van and an SUV with a total of 12 of us and made the 5 hour drive to Salinas. Many of the men from these small rural communities around Cayambe had not traveled much outside of their province, and normally do not have the resources or luxury to leave their homes and work for an extended period of time. But thanks to expenses, transportation, and lodging being covered (except for a small $5 contribution that we requested for their commitment), they had a rare opportunity to expand their worldview a bit.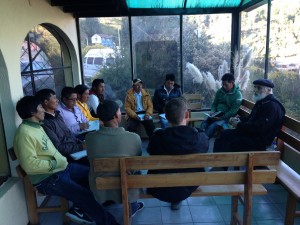 The first evening after we arrived, we had the privilege of hearing firsthand from the man who started the whole transformation process in Salinas, Father Antonio Polo. He is a charismatic, elderly Italian priest who is well respected for his passion and work in community development. He came to speak briefly about the history of the town, but also gave ample time for answering questions. You could see our men's eyes sparkling and wheels turning in their head as they processed the success story of Salinas and the potential they saw for their own communities. I was struck by the profound Biblical (gospel) principles, social (community) values, and economic (business) practices that Father Antonio clearly articulated. He was an engaging speaker, and was so kind to engage with our group as we imagined transposing the Salinas story to Cayambe. A small detail that I was thrilled by- the usual skepticism between Catholic and Protestant believers in Ecuador was completely absent in this interaction.
The next day we took an extensive tour of the whole town and all of it's community owned micro enterprises. Everything was very interesting, especially the textile mill, the confectionary, the sausage shop,  etc. But ultimately, the main reason for visiting Salinas in the first place was to see the famous dairy processing plant, el Salinerito. Our friends from Cayambe had eyes the size of saucers when they saw the beautiful facilities and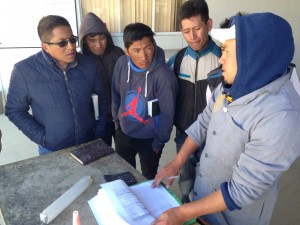 the efficient methods that the workers employed. All cameras were out recording everything they saw, from the milk reception area, to the cheese making room, to the administrative offices. They again had time to ask specific questions and compare notes with the employees and management. They learned about the utmost importance of good bookkeeping, of value added products (especially aging cheese, as opposed to fresh), and a commitment to the common good.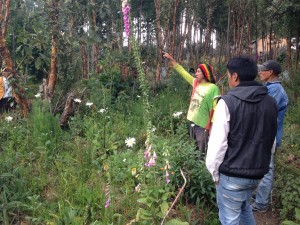 In the evening, as a bonus, we were able to visit a nearby permaculture farm owned by a young man from the area. I think his worldview and farming methods were a little TOO revolutionary for our friends, but nonetheless it was great to expose them to more ideas and cause them to think outside the box.
On our final morning after breakfast, but before loading up the cars to leave, we had a short time to debrief the trip and hear about each person's impressions. The most common sentiments were ones of gratitude, and many expressed their desire to apply what they learned to their own contexts. Almost everyone seemed inspired to dream big and to redouble their efforts to improve their own communities.
One final trivial, but amusing anecdote from the trip is that many of the men who came tried pizza for the first time in their lives in Salinas! It seems they don't have many opportunities to try other foods besides their normal staples of potatoes, rice, meat, and vegetables. It was evident that they thought it was very tasty, although I did hear a comment that it could use a little mayonnaise. 🙂
Again, friends, please rejoice with us, because we consider this trip a huge success. We pray that seeds of inspiration have been planted and that the momentum gained from newfound knowledge will propel our projects to also be success stories in their own rights. Thank you so much for your prayers and continued support which makes these kinds of moments possible!