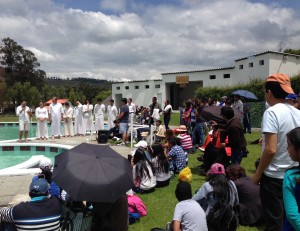 Long time no write! Sorry for the radio silence. As most of you know, our son Soren Atlas was born on November 14th, 2016 and since then our time has been very consumed by him! We are slowly re-adjusting to our new reality as a family of 3 and trying to find a semblance of rhythm in our life. However, with the start of the new year we have begun to pick up the pace again with our work and ministry here in Ecuador, although we are also aware of the impending transition back to the US in a few months as our term comes to an end. Nevertheless, we try to stay plugged in and invested in the projects and people we have come to love.
This past month we have had four major events to get us back in gear, ministry wise. The Evangelical Covenant Church of Ecuador's national annual meeting, the Serve Globally Ecuador missionary meeting with our regional coordinators, and a board meeting for FACE, the community development foundation we collaborate with, and a baptism Sunday with our local church, Iglesia Jipijapa.
IPEE's annual meeting, or "Asamblea" took place at the Covenant camp in Santo Domingo over a weekend in mid-January. Many issues were discussed, budgets analyzed, and pastors ordained. Much focus was also put on the leadership transitions that happened through elections this year as well. We are praying for smooth transitions, and that the denomination would be strengthened by unity.
The ECC's regional coordinators for Latin America, Pia and Eugenio Restrepo came to town for the Asamblea, so we took advantage of their presence to have a mission gathering as well. Often we will set up a video conference call when business arises that needs to get taken care of as a team, but it's even better when we can be together in person and have fellowship. We have a few new missionaries who have either just arrived or will be arriving soon- Denise Garcia, Annalea Egging, and Elizabeth and Richard Santana, and our beloved faithful country coordinator, Cheryll Clark is embarking on a year of Home Assignment in the US, so our team is facing lots of transition as well!
Erik was invited to attend the most recent FACE board meeting last week to discuss the current status of the foundation and its many projects. We aren't always at board meetings (since we aren't members) but since FACE is our main ministry partner it is nice once in awhile to get caught up on the big picture goals as well as get updates about various projects. There are difficult issues regarding finances and administration as well as project-specific challenges that are helpful to discuss.
Finally, this past Sunday we had the privilege to witness the baptism of seven people from our church, Iglesia Jipijapa. Instead of a normal Sunday worship service in the church building, we met in a retreat center that has a swimming pool and nice grounds to have a day of celebration and play. The individuals who were baptized all had their own unique testimonies and it was a joy to hear from their hearts. There was a married couple who made the decision together to get baptized, a few youth who had grown up in Christian homes but were ready to make their faith their own, and a young man who came from a very rough life of drug and alcohol abuse who desired to leave that behind and follow Jesus. It was an awesome day!