Right now, Shanxi Evergreen International School is in urgent need of certified K-8 teachers and a special education teacher for their small school of fifteen students. Our Covenant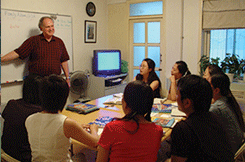 missionaries have echoed their cry and are earnestly seeking teachers for the 2014-2015 academic year so that educational ministries such as English-camps, language training, children's camps, and sports clubs can continue reaching the international children and their families for Christ.
This exciting ministry is just one component of Evergreen Ministries in East Asia, which is driven by a passion to see lives changed, communities impacted, and a nation restored for Jesus Christ by uniting Christian professionals and local leaders to facilitate holistic and sustainable economic and spiritual development. At Evergreen International School children of these Christian professionals and local leaders receive a quality education with integrated Biblical principles.
Will you join with us as we ask the Lord of the harvest to send out workers into his harvest field? (Luke 10:3) Will you encourage a teacher to share their gifts in East Asia? Will you discern yourself if this is where God is leading you?
The kingdom of God is near! Let us hold fast and get ready now. Contact Lana Heinrich for more information.