Midwinter 2016 was nothing short of a success and it was beneficial to all who attended. This year's theme of "Make and Deepen Disciples" was woven through the many events held during the last week of January in Chicago. There were a few moments that Serve Globally was excited to be a part of.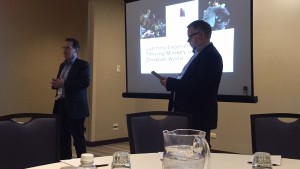 Serve Globally had the honor to have as guest, Vincent Mieville, to speak both at CovTalks and at a workshop.  Mieville is a pastor and the president of the Union of Free Evangelical Churches in France. Mieville spoke on the vitality of the protestant church in a French cultural context in addition to what ministry in a post-Christian world means.
One morning, we had many people wake up early to join us for the Latin America breakfast where we learning about exciting ministries that the Covenant is involved in all over Latin America.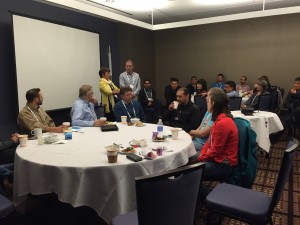 Gary Walter had the pleasure of introducing the three new executive ministers during his ministry update: Al Tizon, who joined the Serve Globally team in September, as well as Michelle Sanchez (Make and Deepen Disciples) and Cecelia Williams (Love Mercy, Do Justice). All three had been recommended and confirmed in to their positions during the Annual Meeting this past summer.
During his introduction, Tizon had the pleasure of introducing the new Africa Regional Coordinator, Josef Rashid. Rashid was serving as a pastor in Texas before accepting the position.
A link to all the Covtalks and sessions, included Gary Walter's update and Vincent Mieville's talk, from midwinter can be found here. Next year's midwinter will take place in Tennessee! We hope to see you there!