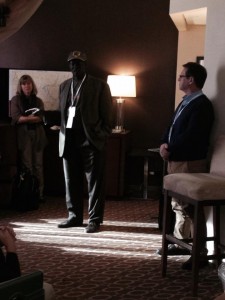 Midwinter XIV's theme of Life Together was deeply rooted in Paul's exhortation in Ephesians 4:2 to "be completely humble and gentle; be patient, bearing with one another in love."
Covenant World Mission (CWM) witnessed God encourage and challenge pastors, missionaries, and congregations to dig deeper into the call to live with humility, patience, and love during our week-long conference. During the afternoon track sessions, CWM was able to explore the theological and practical foundations for a genuinely missional vision and discuss the priorities and strategies of the missional church. 
We heard several of our missionaries share about the necessity to serve with humility, to patiently wait as God grew and harvested the spiritual seeds they planted and watered, and to love God and God's people amidst good and bad seasons.
Because of the dark season in South Sudan, we held a time of prayer on Tuesday with missionary James Tang to intercede on behalf of our Covenant partners and the Sudanese. Please continue to pray for the strength and perseverance of our brothers and sisters in South Sudan.
And for the first time in Midwinter history, the Covenant Café was featured on Wednesday night, hosted by CWM. Life together atop the Hyatt Regency meant Covenanters basking in the warm city lights, listening to music and spoken word from Sharon Irving Carlson and a live jazz trio, and being inspired to live lives of justice and compassion through diverse expressions of art. Check out these photos!