On the first of this year, South Sudan's president declared a state of emergency due to intense rebel fighting and the spiraling violence that has demoralized the world's newest nation. Covenant World Relief director Dave Husby, acknowledged that this is "a huge humanitarian disaster" grounded in ethnic conflict and has triggered more than 1,200 brutal civilian killings, displaced more than 500,000 people, stripped storehouses of food and aid, and left leaders crying out for humanitarian aid.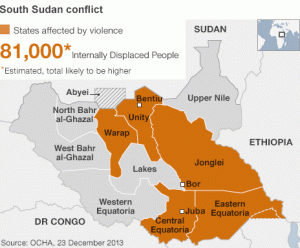 The crisis erupted on December 15, 2013, when militia rebels loyal to the exiled Vice President Riek Machar attempted to overthrow President Salva Kiir. For several weeks, militia rebels numbering 15,000 at its peak have fought against government forces all over the country, but especially in the nation's capital of Juba. Former senior government official Jok Madut Jok has observed that at the bitter root of this crisis are "unhealed wounds leftover from the civil war that preceded South Sudan's independence" and a deficit of reconciliation on political and communal levels.
On January 23, the Sudan Tribune reported that the Sudanese government and militia rebels signed a ceasefire agreement in Ethiopia's capital, with the hope that recovery could begin. But within ten hours of its signing, militia rebels accused the South Sudanese army of violating the ceasefire. While violence has decreased dramatically, outbreaks of violence have continued, leaving many elderly, sick, women, and children extremely vulnerable.
What is our response?
Pray.
Pray for:
reconciliation & even unity amongst the ethnic groups in South Sudan (2 Cor. 5:17-19; John 17:20-23)

South Sudan's political leaders (1 Timothy 2:1-4)

our troubled brothers and sisters in South Sudan (James 5:13a)

our hearts to respond with the justice and compassion of Jesus (Luke 4:18-19)
How else can I respond?
Give.
In response to this crisis, Covenant World Relief (CWR) has established a special giving page towards those displaced in refugee camps, including members of the Evangelical Covenant Church of South Sudan (ECCSS). Read more about the ECCSS's displaced, refugees, relatives killed, leaders wounded, and a recent update from Matthew, a member of the church's leadership team.
These funds will be dispersed through our non-profit partner Medical Teams International (MTI) to provide assistance to refugees in Uganda. You can be a part of CWR's emergency response by giving today (James 2:15-17; 2 Corinthians 9:6-15).  
Covenant World Mission has one missionary working in South Sudan and you can learn more about James Tang here. Or help to support James Tang financially as he endeavors to support the Evangelical Covenant Church of South Sudan during this turmoil by giving online here.