It came to our attention recently that among our many communication outlets we were lacking a clear explanation about the work we think we will be doing in Ecuador. Notice the word "think". One of the reasons we sometimes hesitate (perhaps to a fault) elaborating on our plans is because nothing is set in stone yet. We know what we have been invited to do, and we know what we would like to contribute to, but in the world of missions, as many can attest to, things can change! We are trying to be as prepared as possible for the roles we assume we will play, but also as open as possible for God to use us in unexpected ways.
Now that that caveat is out of the way, we shall commence explaining in a nutshell, what we hope to do:
First of all, we will definitely be working with the Ecuadorian Covenant Church (Iglesia del Pacto Evangelico de Ecuador, or IPEE, pronounced "Ee-pay") specifically with a branch of it called FACE (Fundacion del Adelanto Comunitario Ecuador, pronounced "Fa-say"). FACE is the branch of the church that works in development, social justice, and community outreach. FACE has been around for over 40 years and has worked all over Ecuador in: water projects, medical assistance, disaster relief, public health, agriculture, education, community development, ecological conservation, fair treatment of people with disabilities and assisting people who have HIV.
Of all of those projects the ones we are most excited to participate in are the agricultural projects. A major reason we chose to serve in Ecuador was because it already had agricultural projects running. We have a decent amount of training and knowledge in regards to agricultural development but we don't have the experience to back it up. We wanted to work with existing projects to be able to learn while doing.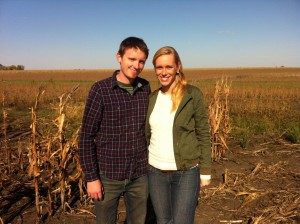 We have been asked by some people to explain what agricultural development is; it is essentially trying to improve people's quality of life through agriculture. Depending on the context it can include: introducing new crops or varieties of crops, developing creative ways to access water and irrigation for crops, developing new techniques to store and transport food that is grown, finding ways to reduce the use of pesticides and other costly harmful chemicals, advocating for farmers rights and fair prices for crops that are grown and introducing methods and techniques to maximize yields.
These are especially helpful for subsistence farmers who grow most of or all of the food their family will eat. For them low yields can mean hungry children, malnutrition, poor health, poor development in children and no seed to plant the following year. Working with small scale farmers to grow the most prolific nutritious crops will not only help feed their families, if their harvests are large enough they can sell or trade their crops for goods and services. If a farmer is able to make ends meet and provide for his or her family they are more likely to allow their children to attend school and with proper nutrition the children's brains will develop properly and be able to retain the things they are learning.
Agricultural development can also be a way to bring a community together. FACE has been working in a town called Sumaco for several years. The town was formed after a mudslide devastated a village killing many of its residents and the government relocated the survivors to what is now Sumaco, a small town surrounded by jungle. IPEE has had many different projects there and the most fascinating to me is their mushroom project. Two years ago I started experimenting with growing mushrooms; I chose to grow oyster mushrooms and it just so happens that is the exact kind of mushroom that is being grown by FACE in Sumaco! (I like to think of this as a "divine coincidence".) As a way for the community to make a living, FACE trained people to produce mushrooms, to eat and to sell in the market and also helped them purchase a truck that could transport these mushrooms to a city big enough to make a profit.
Portobello and Phoenix oyster mushrooms grown in our apartment in Chicago
In many places the struggle of the farmer is something much more difficult to solve. Farmers all over the world are faced with land rights struggles, crops that are being patented, waterways that are being polluted or diverted, abuse from the government or from big companies. In these cases agricultural development means advocacy, giving a voice to farmers and helping restore their dignity. It means bringing light to injustices and criminal activity and helping to form infrastructure that is fair and just.
One third of the Ecuadorian workforce is involved in agriculture and food production of some sort. (Many of the bananas, chocolate and roses you buy are probably grown in Ecuador). The needs of a farmer are unique in every situation and we still have much to learn. Before we can begin to implement any kinds of projects it will take time for us to learn about methods that are currently used, what has been tried in past, what the desires and values of the community are, what we may have to offer, and if the community event wants help.
Many people ask us what we will be doing and expect us to have clear, direct answers. The truth is we don't know exactly what we will be doing once we get there…..we hope to be involved in agriculture as our training and passions are in agriculture but really we just want to be involved in whatever God is doing and wherever God is moving.The church in Ecuador sees FACE as an integral part of their holistic ministry. IPEE works to bring the redemptive message of Jesus Christ in all situations including through agricultural development. God is already at work in Ecuador and we are excited to join, in whatever capacity that we can.