When I got up at 5am, the sky looked clear even though it was still dark, and before 6 there was clear blue sky overhead. I had to catch up on laundry, what with trying to hit on a sunny day during rainy season. Each load takes at least 1.5 hours, so if I put one in at 5  it's usually done at about 6:30, so I can get 3 loads done before 10. Well, the clear blue sky at 6 am turned cloudy by 6:30 am. Hello, Aleta, it IS rainy season! So the first load got hung on hangers under the porch roof, just waiting for some sunshine so it can be put out on the clothesline.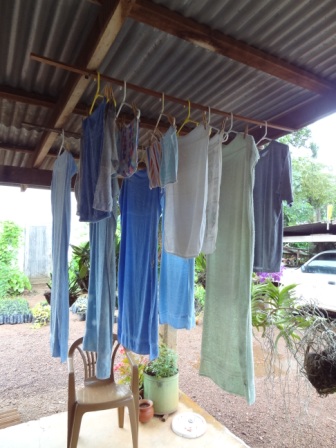 The rain persisted, so we had to put the wash in the "dryer". We hang things inside in our office/spare bedroom and turn on 2 incandescent and 2 fluorescent lights and two oscillating fans at top speed to dry the wash. Sometimes this method works well, sometimes it just yields musty laundry, ick. It depends on how hot the day is and if the laundry at least got a head start outside.  Even on the porch under the roof (heat through the tin and breezes) it does better than inside with fans.  I've got a ton of guest house sheets and towels to do besides our own – if you know Roy, you KNOW what my wash loads look like. He loves to work hard and he loves to work in the dirt! Also, the new family, the Shinars, (did you see their photo on our blog?) has been using the washer every other day to keep up with diapers and their other laundry until we get their wringer washer set up.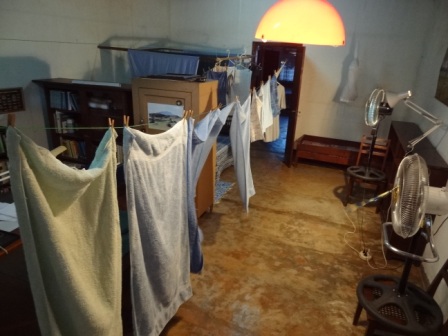 I drape sheets and anything flat over the wooden mosquito net frame in the back corner.  There is a bed back there – anyone want to come visit??  I'll try not to hang laundry in your face while you sleep!